Word posted a Most Wanted on this Friday,  but I want to expand on it because I am beyond angry. This is press bias at it ugliest. It doesn't get any uglier.
It is not just bias. It's reverse racism and bias.
The ugliness is the difference in how a white Republican got treated vs how a black democrat gets treated.
2005: A Republican president takes three days to survey a natural disaster in Louisiana and Mississippi after cutting a vacation short.

The media at the time declares that was way too long, far too insensitive, even pushes a narrative that labels him racist.

2016: A Democratic president will not only cut a vacation short in any capacity to survey a natural disaster in Louisiana — the worst of any kind to hit the country in four years — but hasn't even made any public statements on it. Not one.

The media of 2016 now yawns. Basically indicates its no big deal and if there is actual criticism, it doesn't lead a cable news hour or go anywhere near a front page.
This is bullsh*t. Total bullsh*t.  As noted, President Liar was extremely critical of Bush following Katrina:
"We can talk about what happened for a few days in 2005 and we should," Obama said. "We can talk about levees that could not hold … about a president who only saw the people from the window of an airplane instead of down here [on the ground], trying to provide comfort and aid. We can talk about a trust that was broken."
That wasn't enough:
And the press? This is fairly recent stuff.
Vanity Fair:

THE FLOOD THAT SANK GEORGE W. BUSH
US News:

The Undoing of George W. Bush
Hurricane Katrina badly damaged the former president's reputation. And it still hasn't recovered.
NOLA:
George W. Bush never recovered politically from Katrina
Whose fault is that? Hint- it's not Bush's. Bush responded promptly when asked for help:
On Saturday (27 August), Governor Blanco did indeed issue a letter requesting that President Bush "declare an emergency for the State of Louisiana due to Hurricane Katrina." The White House responded to Governor Blanco's request that same day (Saturday) by declaring the emergency and authorizing FEMA "to identify, mobilize, and provide at its discretion, equipment and resources necessary to alleviate the impacts of the emergency."
Moreover, Bush wanted Federal control of the situation but was refused:
Behind the scenes, a power struggle emerged, as federal officials tried to wrest authority from Louisiana Gov. Kathleen Babineaux Blanco (D). Shortly before midnight Friday, the Bush administration sent her a proposed legal memorandum asking her to request a federal takeover of the evacuation of New Orleans, a source within the state's emergency operations center said Saturday.

The administration sought unified control over all local police and state National Guard units reporting to the governor. Louisiana officials rejected the request after talks throughout the night, concerned that such a move would be comparable to a federal declaration of martial law. Some officials in the state suspected a political motive behind the request. "Quite frankly, if they'd been able to pull off taking it away from the locals, they then could have blamed everything on the locals," said the source, who does not have the authority to speak publicly.
But let obama ignore flooding in Louisiana and the press defends him:
Similarly on ABC's Good Morning America, White House correspondent Jonathan Karl tried to defend Obama against his critics saying, "Now Robin, as you know, no president really goes on vacation. The White House points out he's been getting regular briefings on this. He's dispatched his Homeland Security Secretary and the FEMA director to the state and offered any assistance the administration can offer."
obama's very busy, doncha know?
When asked by reporters during a press conference if President Barack Obama would take time from his vacation to visit the state, Johnson was unable to commit.

"As I said, the president can't be everywhere, I know he has a very busy schedule this fall and in the coming days," Johnson said.

He assured the people of Louisiana that Obama was monitoring the disaster from his vacation home in Martha's Vineyard.

"When you are the chief executive of the entire U.S. government, you can't be everywhere including places you would like to be," he said, assuring again that Obama was "on top" of the situation.
Yeah, he's been busy all week: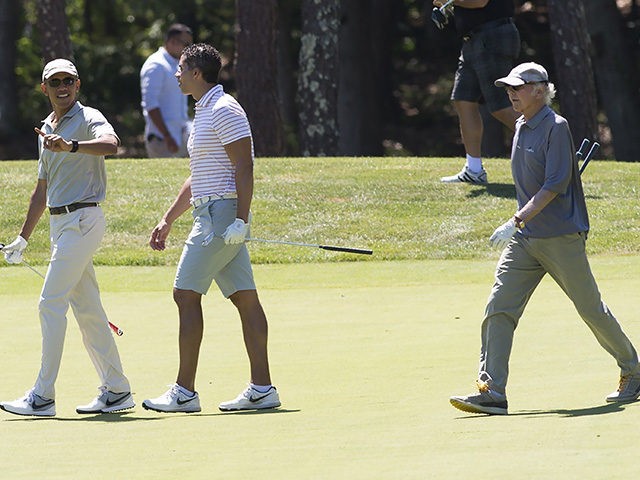 Now that his vacation is over obama will pay lip service to Louisiana:
So let's re-phrase obama's words:
"We can talk about what happened for a few days in 2016 and we should," Obama said. "We can talk … about a president who only saw the people on a TV screen on Martha's Vineyard and not at all from  several golf courses. We can talk about a trust that was broken."
Now may I introduce some real irony?
Donna Brazile praises Bush's Katrina response on flight with Obama
Donna Brazile, a prominent Democratic political operative, praised President George W. Bush's response to Hurricane Katrina on Thursday, just hours before President Obama's speech in New Orleans marking the storm's 10th anniversary.

Brazile, a Louisiana native, has applauded Bush's Katrina response before. But she made her latest comments on board Air Force One while flying to the Big Easy with Obama, who has previously criticized's his predecessor's handling of the storm recovery.

"Under President Bush's leadership, we got it right," she told reporters.

Brazile said Bush's initial response to the storm was "slow," but chalked that up to chaos plaguing state and local governments along the Gulf Coast.

She praised Bush for pouring more than $120 billion into rebuilding New Orleans and other Gulf communities over the opposition of some Republicans on Capitol Hill.

"The president made a commitment and I think he kept his word," said Brazile.

Walter Isaacson, the Aspen Institute CEO who served with Brazile on the Louisiana Recovery Authority, echoed her comments.

"George W. Bush, I think, gets a bum rap," he told the traveling press corps. "It took a while to get things started, it was a little bit slow. But he cared about the city deeply and so did Laura Bush."
Michael Goodwin had a fine piece in the NY Post today lamenting the total collapse of journalism:
Donald Trump may or may not fix his campaign, andHillary Clinton may or may not become the first female president. But something else happening before our eyes is almost as important: the complete collapse of American journalism as we know it.

The frenzy to bury Trump is not limited to the Clinton campaign and the Obama White House. They are working hand-in-hand with what was considered the cream of the nation's news organizations.

The shameful display of naked partisanship by the elite media is unlike anything seen in modern America.

The largest broadcast networks — CBS, NBC and ABC — and major newspapers like The New York Times and Washington Post have jettisoned all pretense of fair play. Their fierce determination to keep Trump out of the Oval Office has no precedent.

Indeed, no foreign enemy, no terror group, no native criminal gang, suffers the daily beating that Trump does. The mad mullahs of Iran, who call America the Great Satan and vow to wipe Israel off the map, are treated gently by comparison.

By torching its remaining credibility in service of Clinton, the mainstream media's reputations will likely never recover, nor will the standards. No future producer, editor, reporter or anchor can be expected to meet a test of fairness when that standard has been trashed in such willful and blatant fashion.
Someone did once say that "The press is a ass."
They are an ass. Worse than that, outside of Fox they are as corrupt as the Clinton's.