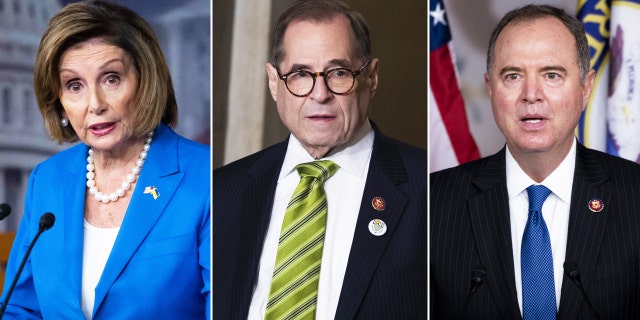 Nadler knows what the J6 committee did was and is wrong. Now he's getting in front of it because the day of reckoning is coming and he wants it known that he really wasn't on board.
FIRST ON FOX: A new book reveals that House Judiciary Chairman Jerrold Nadler, D-N.Y., was at odds with how House Permanent Select Committee on Intelligence (HPSCI) Chairman Adam Schiff, D-Calif., and House Speaker Nancy Pelosi handled impeachment proceedings against former President Trump, insisting that the methods used by the prominent Democrats were "unconstitutional" and could be used to attack the party.

The revelation comes in a book set to be released on Oct. 18 titled, "Unchecked: The Untold Story Behind Congress's Botched Impeachments of Donald Trump," written by Politico Playbook co-author Rachael Bade and Washington Post reporter Karoun Demirjian. The book chronicles the methods Democrats used to target Trump.

In October 2019, amid the Democrats' plan to hold a full House vote on a resolution outlining the structure of impeachment proceedings against Trump, Nadler, according to the book, took issue with how Schiff, who was tapped by Pelosi to lead impeachment efforts, was prepared to proceed with the impeachment without due process for Trump.

Worried about the situation and the likelihood that his Judiciary Committee would not be able to cross-examine witnesses as the committee had done traditionally, Nadler confronted Schiff about the planned process and, according to the book, said, "It's unfair, and it's unprecedented, and it's unconstitutional."

"I don't appreciate your tone," Schiff allegedly responded. "I worry you're putting us in a box for our investigation."

Sidelined by Pelosi to handle impeachment proceedings in the House, the book claims Nadler made an "effort to get back into Pelosi's good graces" and that his "aides sucked up to her staff relentlessly" in an attempt to show that his panel was prepared to step in and assist.

Striving to earn approval from Pelosi, Nadler hired attorneys and had his team review records and books from the impeachments of former Presidents Nixon and Johnson. Those efforts worked and led Pelosi and Schiff to reconsider the Judiciary Committee's involvement in the process, although they had "their own ideas about how he should run his committee process," according to the book.

"She didn't want the Judiciary panel to interview witnesses at all,"
The process- which included removal of members chosen by the minority chair and a lack of cross examination- was historically unprecedented and unconstitutional. I hope the GOP finds the balls to destroy these cretins in the same manner. There is no point in being fair any longer.
More at Fox News