It might be time to add "Without evidence…." to each claim made in testimony by the Capitol cops put on display in the DNC sponsored hearings today. Certainly it ought to be added to Harry Dunn's testimony.
Capitol Police Officer Harry Dunn told the January 6 Select Committee, without evidence, that a crowd of Trump supporters repeatedly called him a racial slur during the protests. Dunn, a Capitol Police officer who is an admitted Democrat, spoke during the first hearing of the January 6 Select Committee on Tuesday, and described various scenes that strain credulity and supposedly occurred during the protests. Dunn said that he told many of them to leave the Capitol building, but in response they allegedly yelled, "no man, this is our house. President Trump invited us here. We're here to stop the steal. Joe Biden is not the President. Nobody voted for Joe Biden."

He then claimed that after he informed the protesters that he, in fact, voted for Biden, the revelation prompted a "torrent of racial epithets" being thrown from the crowd towards him. "One woman in a pink MAGA shirt yelled, 'you hear that guys? This n****r voted for Joe Biden'," he said. "Then the crowd, perhaps around 20 people, joined in screaming, 'boo! F**king n*****r!' No-one had ever, ever called me a n****r while wearing the uniform of a Capitol Police officer," Dunn added.
Maybe they still haven't. There are reasons to doubt Dunn.
Julie Kelly, of the American Greatness, highlighted on Twitter that Dunn was being represented by Mark Zaid and David Laufman, two well known anti-Trump attorneys, with Zaid having handled the Vindman case against Trump. Jon Miller, the black America First commentator, cast further aspersions on Dunn's testimony. "Even if this did happen (which if it actually did it would be the first video CNN released) you'd think your hardest day as a POLICEMAN would be a little rougher than people calling you names," Miller wrote in a post on social media.
So there is no corroborating evidence to support Dunn's allegations. But that's not all. Dunn is a democrat who voted for Biden but that's not really the problem. It's the things he's written. Shem Horne (@Shem_Infinite) has gathered together some interesting Dunn tweets.
Is this the same Capitol Police officer who testified today?

Here are a few of his Anti-Trump tweets, including calling him "Racist in Chief" pic.twitter.com/7PCvGJerpb

— Shem Horne (@Shem_Infinite) July 27, 2021
Here he calls Trump "racist in chief"

And he's an Ilhan Omar fanboy. Then there's this one
🤣🤣 @chrissyteigen man this is gold 🤣🤣🤣 https://t.co/Hny4cHMAxd

— Harry A Dunn (@libradunn) September 9, 2019
Dunn is a big fan of the Lincoln Project
😂😂😂 Capitol Police Officer Harry Dunn loves the Lincoln Project. Of course he does. pic.twitter.com/E72hxnSrLm

— Shem Horne (@Shem_Infinite) July 27, 2021
And he lied under oath today
Dunn asked "for a moment of silence for my fallen colleague Officer Brian Sicknick, who died from injuries he sustained in the line of duty defending the capital of our beloved democracy."
Sicknick's death was reported by the Washington DC Chief Medical Examiner in April as being a result of natural causes after suffering two strokes.
There are over 14,000 hours of surveillance tapes being withheld by the Biden DOJ which it refuses to release. One immediately asks why. One also comes to believe that that those tapes contain data which would blow open the case being made by the kangaroo court today.
And wait- one more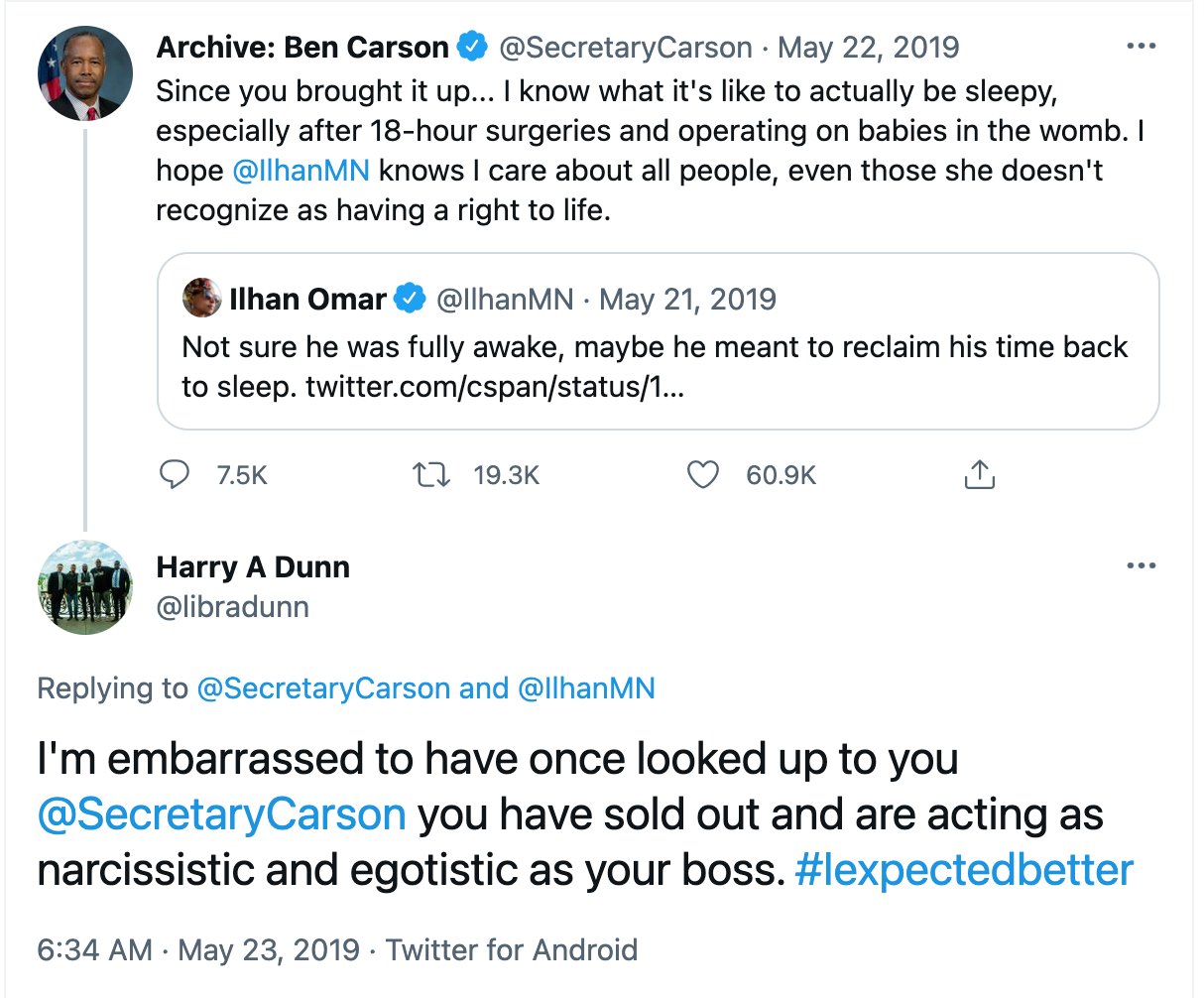 But as of today, we have solid reason to doubt anything Harry Dunn says. He hates Trump and has hated Trump at least since Trump was President. That's powerful motivation to misrepresent events.
UPDATE
Dunn also supported riots in Kenosha