Statue tipping has become the leftist activity du jour of late. Astonishingly, the magazine Popular Mechanics has published a story about how to take down statues without anyone getting hurt:
"Should you happen to find yourself near a statue that you decide you no longer like, we asked scientists for the best, safest ways to bring it to the ground without anyone getting hurt — except, of course, for the inanimate racist who's been dead for a century anyway," writer James Stout begins.

Stout also taps mechanical engineer Scott Holland to provide explicit details of how to safely bring down a statue that includes assembling a team of up to 70 friends for the job.
In what can only be described as karma, one protester had a statue fall on him, causing severe injury.
A protester was seriously injured in Virginia this week when a Confederate statue he helped tear down toppled on top of him, according to reports.

The man, believed to be in his 30s, was part of a group of demonstrators Wednesday night trying to take down the Confederate monument in Portsmouth, WAVY reported.

Protesters were seen hitting the 35-foot-tall granite obelisk with a sledgehammer and using ropes to pull it off its pedestal before it fell directly on him, knocking him unconscious, the report said.
That's a real shame. It is also a shame that this country no longer has police who are interested in stopping this vigilantism.
The destruction of statues has become wanton. It is utterly mindless and stupid. It is ignorant.
Today Byron York wrote in his Daily Memo:
What do George Washington, Thomas Jefferson, Theodore Roosevelt, Ulysses S. Grant. Father Junipero Serra, and Christopher Columbus have in common?
The answer was that none was a Confederate General. All were interested in making things better for the country.
But that doesn't matter. Anarchy matters.
Most of these damned idiots don't know the history of any of their targets. Cervantes? Serra? Grant?
Really?
The most egregious statue destruction was that of Ulysses S Grant. Ulysses S. Grant gave just about everything he could to this country. He admired Robert E. Lee as a soldier, politics aside, but had this to say:
 The South's defeat saddened Grant. As he wrote in his Personal Memoirs, he felt "sad and depressed…at the downfall of a foe who had fought so long and valiantly, and had suffered so much for a cause, though that cause was, I believe, one of the worst for which a people ever fought."
It is widely acknowledged that US Grant once came into ownership of a slave, but despite his own poverty freed the man.
The same year, Grant acquired a slave from his father-in-law, a thirty-five-year-old man named William Jones.[96] Although Grant was not an abolitionist, he was not considered a "slavery man", and could not bring himself to force a slave to do work.[97] In March 1859, Grant freed William by a manumission deed, potentially worth at least $1,000, when Grant needed the money.[98]
The use of slaves on the farm…was a source of irritation and shame to Grant. Jefferson Sapington told me that he and Grant used to work in the fields with the blacks. He said with glee, 'Grant was helpless when it came to making slaves work,' and Mrs. Boggs corroborated this. 'He was no hand to manage negroes,'she said. 'He couldn't force them to do anything. He wouldn't whip them. He was too gentle and good tempered and besides he was not a slavery man.'"

Whether or not Grant wasn't a "slavery man" by inclination, we know he briefly owned William Jones. He does not mention Jones in his memoirs or other writings, so the exact nature of their relationship remains a mystery. We do know that in March 1859 Grant filed the following manumission document.

"I Ulysses S Grant of the City and County of St. Louis in the State of Missouri, for diverse good and valuable considerations me hereunto moving, do hereby emancipate and set free from Slavery my negro man William, sometimes called William Jones(Jones)of Mullatto complexion, aged about thirty-five years, and about five feet seven inches in height and being the same slave purchased by me of Frederick Dent-And I do hereby manumit, emancipate & set free said William from slavery forever."
By any standards Grant was a good man. He defeated the Confederacy, smashed the KKK and appointed many black people to significant posts. Not good enough, says Nikole Hannah Jones, the author of the 1619 Project. Grant, you see, was just like Hitler or Bin Laden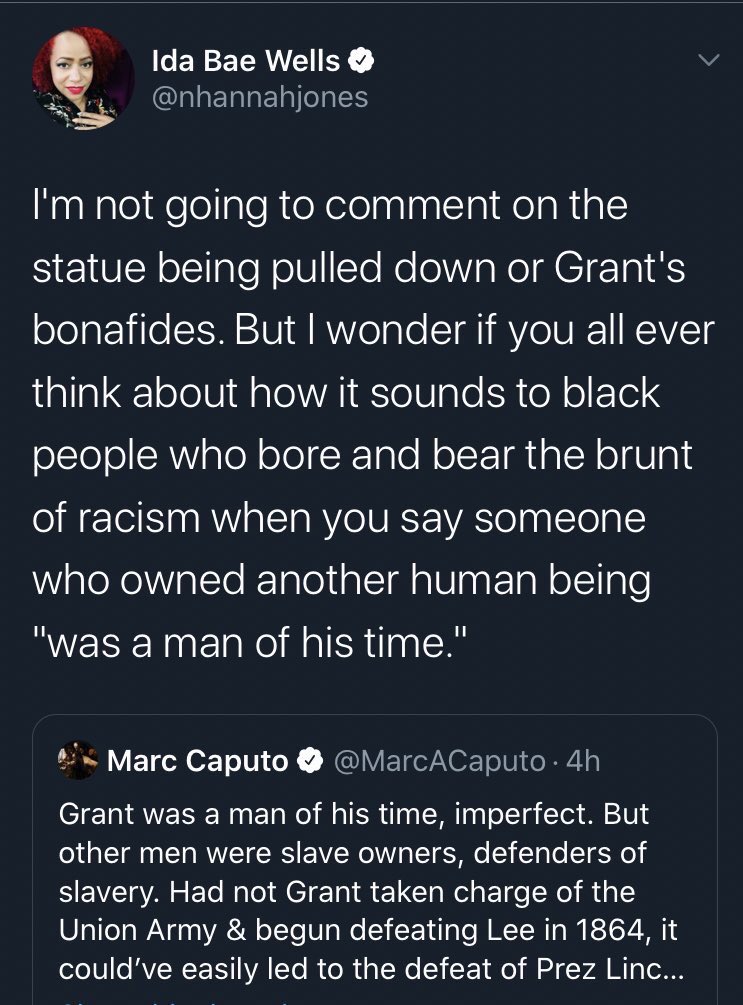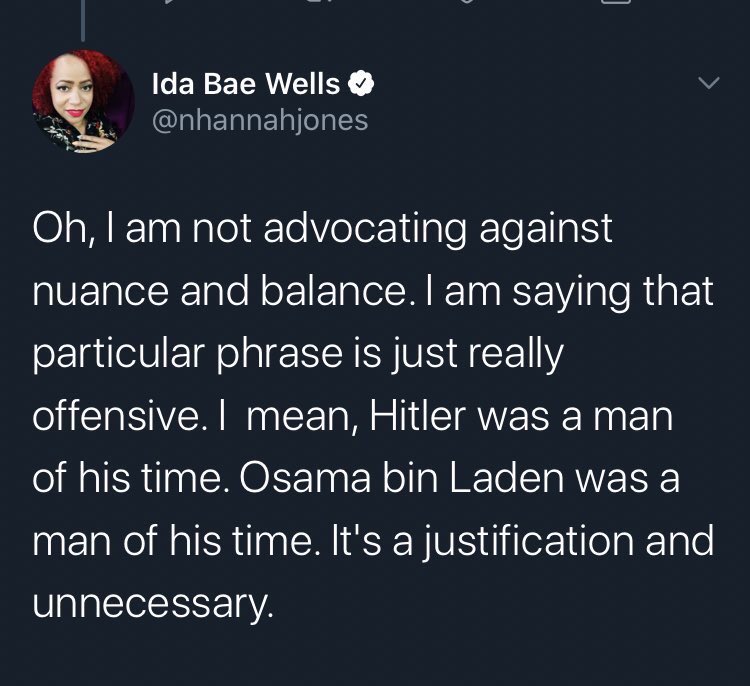 This is the kind of blatant ignorance that won a Pulitzer Prize. The rest of the 1619 Project is likely to be as accurate historically.
Antifa are simply pure scum. BLM, on the other hand, have more soaring goals. The founder of BLM says "we are trained Marxists"
"Myself and Alicia in particular are trained organizers. We are trained Marxists. We are super-versed on, sort of, ideological theories," she said, adding that the group's founders sought to "build a movement that could be utilized by many, many black folk."
The she adds:
"We don't necessarily want to be the vanguard of this movement. I think we've tried to put out a political frame that's about centering who we think are the most vulnerable amongst the black community, to really fight for all of our lives," she said.
Frankly, that's bullsh*t.
While the cowardly statue tipping weasels are wreaking havoc on history, we are reminded that black lives really don't matter.
Chicago saw its highest number of gun violence victims in a single weekend this year with 102 people shot across the city from Friday evening to Monday morning, 14 of them fatally. Five of those killed were minors.
BLM cares not for them
Antifa cares not for them.
Neither group makes a scintilla of effort on their behalves. They don't really care about black lives. This is all about ignorant and stupid effort at destroying the country.
Nothing more, nothing less.
BTW, this is what Frederick Douglass had to say about US Grant:
The great abolitionist and former slave Frederick Douglass, who viewed Grant as "the vigilant, firm, impartial, and wise protector of my race," perhaps best summed up Grant's importance to the newly freed ex-slaves:

To Grant more than any other man, the Negro owes his enfranchisement…. May we not justly say … that the liberty which Mr. Lincoln declared with his pen, General Grant made effectual with his sword—by his skill in leading the Union armies to final victory?

Later, following passage of the Reconstruction Amendments—the Thirteenth, Fourteenth, and Fifteenth Amendments to the Constitution–guaranteeing, respectively, emancipation, voting rights, and full citizenship to African Americans, in large part, due to the support and efforts of Grant, Douglass would observe,

…Abraham Lincoln made [the Negro] a free man, and Gen. Ulysses S, Grant made him a citizen.
This is the man whose statue they tore down. This is the man that idiot Nikole Jones likened to Hitler.