And wait until you see how the left wing media portrayed what happened.
Donald Trump held a rally in New Mexico yesterday. Protesters were on hand but simple protest was not enough. Exercising their rights was not enough. They decided they were going to suppress the rights of Trump and of those who attended the rally. They lit fires and threw rocks and bottles at police, some of whom were injured. They assaulted a wheelchair-bound Trump supporter while chanting "Stop the hate!" (video at the link)
There was violence both inside and outside the rally.
As far away as Pakistan it was reported correctly.
The primary victory brings Trump, the last Republican standing in the 2016 US presidential race, one major step closer toward clinching his party's nomination.

But the success was clouded by violent anti-Trump demonstrations in Albuquerque, New Mexico.

Chaos erupted outside a Trump rally when protesters threw burning t-shirts and bottles at police, and tried to storm the convention center where the provocative Republican candidate was speaking.

Horse-mounted police and officers wielding clubs used pepper spray and smoke bombs to try to disperse the crowd.

The protesters, several of whom waved Mexican flags, chanted expletives about Trump. Some also waved signs with expletive-laden anti-Trump slogans in Spanish.
In Spanish.
Few hundred Trump protesters chant, beat drums and perform rituals outside the Albequerque convention center. pic.twitter.com/RG47HnFRQX

— Jacob Rascon (@Jacobnbc) May 24, 2016
So how was this portrayed in the left wing media?
Trump Protesters Hit With Smoke Grenades In Clashes With Albuquerque Police
Donald Trump's Campaign Rally In New Mexico Turns Violent
Idiots.
As you can see, these dirtbags were flying the flag of their home– the Mexican flag. They're here illegally and they're suppressing the rights of US citizens and flying the Mexican flag. Nothing says I want to assimilate and become a US good citizen more than that. The violence only vindicates and validates Trump's position on illegals. It is entirely unacceptable for illegals to break into this country, make demands and sow violence. I lay all of this at obama's feet. Some people will behave like animals when they're allowed to behave like animals. When there is no disincentive for intimidation there will be intimidation. When there is no disincentive for violence, there will be violence.
At least, on the part of the left.
Over at DePaul University, Black Lives Matter assaulted a gay conservative while the security force paid for by Breitbart and the University refused to intervene.
Remember when Trump supporters lit fires, threw rocks and bottles at police and injured them at a Hillary rally or Sanders rally?
Neither do I.
UPDATE
For you Ajay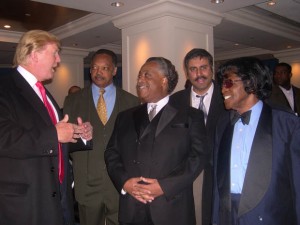 Trump wasn't racist until he declared to be a Republican running for office.