by Buck Throckmorton
The old left is battling the new left as the UAW has launched a strike against the Big Three auto manufacturers.
"UAW strikes at GM, Ford, Stellantis plants after no new contract reached" [Fox Business – 9/15/2023]
There was once a time when I would have been aligned with management for a variety of principled economic reasons, but with the executive suites of US auto companies now full of radical leftists who see their role as being extra-governmental agents whose role is to help install a global eco-communist order, they've lost me. My principles do not require me to support any party, company, or principle that will result in a loss of my liberty.
This battle between the United Auto Workers and the Big Three auto executives is effectively a proxy war between those of us who wish for a future with gas-powered cars and those who want a future with electric vehicles only. The autoworkers' future depends on survival of gasoline vehicles powered by internal combustion engines ("ICE"
.
Unfortunately, the UAW's leadership has done terrible harm to the rank and file by continuing to aid and abet Democrats, who in turn are seeking to destroy the traditional American auto business by legislating it away with EV mandates. And remember, the ultimate goal of "the EV transition" is not to get people out of ICE vehicles, it's to eliminate mass-market car ownership altogether. There is no future for auto workers in the world the left is trying to take us to.
But finally, there is some awakening among the UAW and its leadership that there is no place for them in the green new future of the American left.
"United Auto Workers 'feel abandoned' by Democratic Party, former union president says; Former UAW president says President Biden's Inflation Reduction Act failed union workers" [Fox News – 9/14/2023]
Just a reminder – the "Inflation Reduction Act" that failed America's union workers was really the Green New Deal, and had nothing to do with inflation.
United Auto Workers (UAW) members feel as though the Democratic Party abandoned them, a former president of the union said ahead of a potential strike."I think there's a segment of the Democratic Party that sees itself as serving corporations rather than the common good.… We've had a lot of disappointments," King said.
To be fair, that faction of the Democratic Party that is "serving corporations" is actually in service to corporate agents of Klaus Schwab and the anti-humanity tyrants at the World Economic Forum.
As to the specifics of the union's demands, a 36% pay increase over the next five years is not that outrageous, considering the double-digit inflation that shows no sign of abating, and which has eaten away at so much consumer purchasing power. (I'm talking about actual inflation, not the fabricated inflation rate published by the Department of Labor.) What amounts to 7% yearly wage hikes does not keep up with Biden's inflation, and since the Big Three auto companies are such cheerleaders for Biden and his radical policies, the least they can do is offer their employees wages to keep up.
As for the 32-hour work week, of course that is preposterous. I hope it's just a negotiating ploy. In fact, this embodies why I have been so frustrated with unions over the years. I don't mind them seeking to maximize pay and benefits for those who are engaged in labor. It's the unions' efforts to seek pay and benefits for those who are not engaged in labor that is ultimately so self-destructive to organized labor.
That said, gas-powered cars manufactured by union labor are extremely profitable, and are subsidizing the great EV debacle which has become an all-consuming distraction for the leadership of Ford and GM.
"Ford expects to bleed $4.5 billion on electric cars this year, but it makes enough on everything else that it might not matter" [Fortune – 7/28/2023]
Ford is forecasting that its electric vehicle division will lose $4.5 billion this year, the U.S. automaker announced on Thursday. The division, called "Ford Model e," has already shed about $1.8 billion in 2023 so far.
This loss amounts to over $32,000 per EV sold in Q2 2023. So the paradox is that Ford's sustainable green leadership wants to become a company that primarily manufactures EVs, but the EV folly is a bottomless money pit, for which Ford needs its ICE cars to subsidize.
Then there is the issue of executive pay…
I once defended (or at least made excuses for) excessive compensation of corporate executives, so long as their companies were successful, and because I could safely assume that they were pro-business, pro-prosperity, pro-America, and anti-communist. In other words, I supported them with the understanding that they were on my team.
But the current crop of executives are mostly obedient servants of the communists at the World Economic Forum, seeking to assist in the destruction of western civilization. They loot once-great companies that others before them built, and redistribute equity from shareholders to themselves, oftentimes while producing staggering losses.
Let's look at Jim Farley, who as CEO of Ford is aggressively destroying the company. He's also doing what is normal for executives aboard a sinking corporate ship – grabbing as much for himself while he still can.
"Here's how much Ford CEO Jim Farley made last year" [The Detroit News – 3/31/2023]
Ford Motor Co. CEO Jim Farley received nearly $21 million in total compensation in 2022…The total compensation package that Farley, 60, earned last year included a base salary of $1.7 million, $15.1 million in stock awards, and nearly $2.8 million in bonuses. He received nearly $1.4 million worth of other compensation in the form of perks like the use of private aircraft and company vehicles.

That marked a 93% increase from 2020, when he became CEO.
A 93% increase over two years for the CEO seems a lot more excessive than the 36% over five years being requested by the rank and file.
With that level of compensation, you'd think Farley is printing money for Ford. Well, you'd be wrong…he is losing billions of dollars.
In a letter to shareholders, Bill Ford Jr. acknowledged that 2022 financial results, which included a $2 billion net loss, "did not meet our high expectations."
So why is Farley receiving almost $18 million in bonuses and awards for hemorrhaging cash (due to his EV missteps) and for not meeting expectations?
Take a look at this quote from Mr. Farley on CNBC: "There's no way we can be sustainable as a company," says Ford CEO Jim Farley if they paid what the UAW is demanding."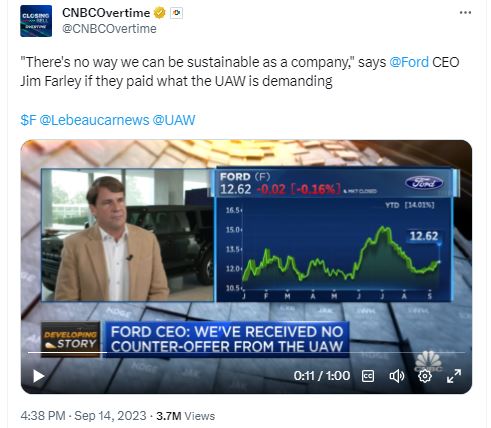 There's also no way Ford can be sustainable as a company with a CEO who is losing $4.5 billion to produce unwanted, fairy-tale vehicles that lose $32k per unit.