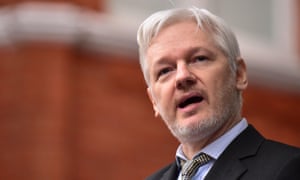 Wikileaks founder Julian Assange said Tuesday his whistleblowing website might release "a lot more material" relevant to the US electoral campaign.
Assange was speaking in a CNN interview following the release of nearly 20,000 emails stolen from the Democratic National Committee by suspected Russian hackers.

However, Assange refused to confirm or deny a Russian origin for the mass email leak, saying Wikileaks tries to create ambiguity to protect all its sources.

"Perhaps one day the source or sources will step forward and that might be an interesting moment some people may have egg on their faces. But to exclude certain actors is to make it easier to find out who our sources are," Assange told CNN.

The Kremlin has rejected allegations its behind the hacking, calling suggestions it ordered the release of the emails to influence US politics the "usual fun and games" of the US election campaigns.
"This is not really good for bilateral relations," Dmitry Peskov, the Kremlin spokesman, added.

Speaking from the Ecuadorian embassy in London, where he faces extradition over sexual assault allegations, Assange told CNN that Democratic Party officials were using the specter of Russian involvement to distract from the content of the emails, which have had tumultuous affect on the party at the start of its national convention, where it is expected to make Hillary Clinton its presidential nominee.

"It raises questions about the natural instincts of Clinton that when confronted with a serious domestic political scandal, she tries to blame the Russians, blame the Chinese, et cetera," Assange told CNN.

"Because if she does that while in government, it could lead to problems," he added.