by Ace
True story. My word as a Biden.
A new poll revealing President Joe Biden's shocking low approval numbers leaves CNN in disbelief– causing the liberal network to admit the Democratic Party is in trouble.A Washington Post/ABC News poll found that Biden is sinking in the polls, sounding alarms that he may not be able to recover from his disastrous decisions before the 2024 election.

"In the first real snapshot, if you will, of President Biden's standing since his reelection announcement, voters are saying he has real work to do," CNN host Kate Bolduan said. "And that's even among his own party."

The poll found that 58 percent of Democrats and Democratic-leaning independents say they want their party to nominate someone else.

In addition, Biden's approval rating remains at a historic low of 36 percent.

"Biden's overall approval rating remains underwater," Bolduan added. "That's the lowest for any American president at this point in their first term. That's dating back to Harry Truman."

…"One of the concerns that voters have expressed has to do with his mental sharpness," Saenz said. "If you look at this poll, only 32 percent of voters said that the president, who is 80 years old, has the mental sharpness to serve effectively."
Another poll, this one from AP, has Biden at a still-weak 40%, with especially low marks on the economy, guns, the border, and the ability to speak English.
As President Joe Biden embarks on his reelection campaign, just 33% of American adults say they approve of his handling of the economy and only 24% say national economic conditions are in good shape, according to a new poll from The Associated Press-NORC Center for Public Affairs Research.Public approval of Biden's handling of the economy remains low in a time of high inflation, a difficult housing market and concerns about a potential U.S. government debt default. American opinion is also gloomy about Biden's efforts on gun policy and immigration, with only 31% saying they approve of the president's performance on those hot button issues. Overall, 40% say they approve of the way Biden is doing his job, similar to where his approval rating has stood for much of the past year and a half.

…Even among Democrats, the poll finds only about half approve of his handling of immigration and gun policy.

…Biden underperforms on the economy even among Democrats: 61% approve of him on the issue, compared with 75% for his job overall. Democrats feel even more dour about the current condition of the nation's economy, though they continue to be more likely than Republicans to say the country is headed in the right direction (36% vs. 7%) or to rate the economy as good (41% vs. 7%).
Gallup also finds that Americans are pessimistic about the economy.
Roughly two in five Americans are still struggling to make ends meet, new federal data has shown – more than the amount seen in the aftermath of the Covid-19 pandemic.The revelation comes from the Census Bureau's latest household survey, released Wednesday, which shows some 38.5 percent of adults – or 89.1 million people – experienced difficulty paying their bills between April 26 and May 8.

The number is up from a year ago, when 34.4 percent of Americans reported they were undergoing budget crunches and comes as a near-50 percent increase from the 26.7 percent recorded in 2021.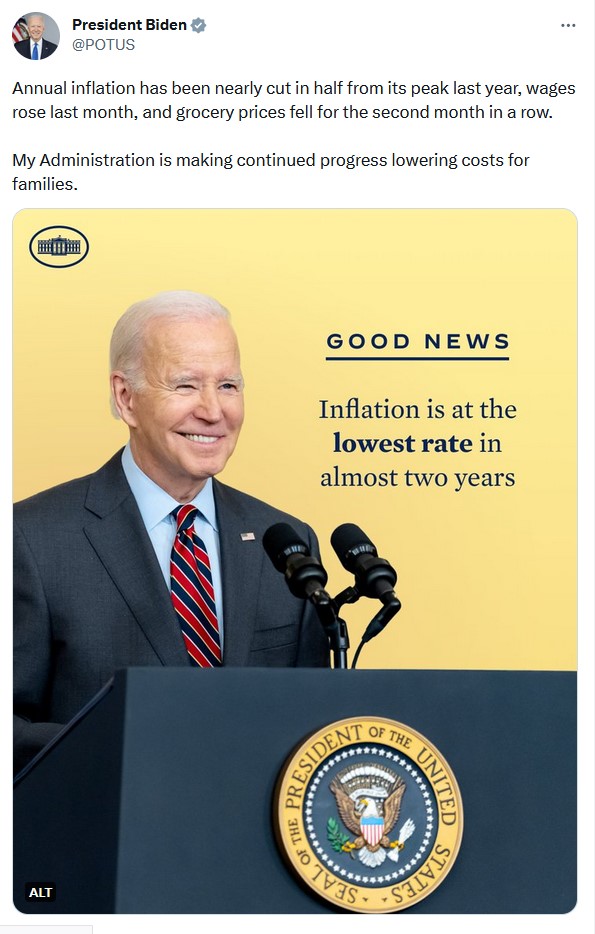 60% of voters 
don't think that Biden will even survive to see the year 2028.
Personally, I think their math is off. Way off, Jerry!
A majority of Americans believe President Joe Biden doesn't have the ability to make it through a second term, according to a poll released Sunday.Sixty-one percent of Americans said Vice President Kamala Harris would end up taking over for Biden if he won a second term, according to a Harvard Caps/Harris poll.

The number was higher among Republicans, with 82% saying Biden wouldn't make it through the presidency. Thirty-five percent of Democrats believed Biden would not be able to serve a full term.

…Americans also expressed doubts about Biden's mental capacity in general.

Fifty-seven percent of Americans said they had doubts about his mental fitness, and 65% said Biden is showing he's too old for office.

Biden has publicly addressed concerns about his mental health but has refused to take a mental acuity test, despite Nikki Haley and Donald Trump calling on him to do so.
Meanwhile, Biden is driving us towards a default on our debt, and also claiming he'll abrogate Congress' power of the purse.