Today, America First Legal (AFL) released document productions (1, 2, and 3) obtained from a Freedom of Information Act (FOIA) lawsuit against the Department of State exposing how the Global Engagement Center (GEC) carries out state propaganda through willing participants from private media organizations.
Although the GEC's mission supposedly combats foreign disinformation abroad, AFL previously uncovered that the GEC supported the Biden White House National Security Council's (NSC) effort to share "Lessons Learned from CDC and Census on countering dis/mis information in real time" across the federal government, revealed the GEC used taxpayer dollars to create a video game called "Cat Park" to "Inoculate Youth Against Disinformation," and filed nine additional FOIA requests to obtain records about GEC grants that outsource government propaganda and censorship to private entities.
AFL has long been committed to fighting the crusade against free speech. On May 2, 2023, AFL filed a landmark lawsuit against private parties that conspired with the federal government to conduct a mass surveillance and censorship operation targeting the political speech of millions of Americans on social media platforms specifically designed to target conservative political speech on questions of great public interest like election integrity, COVID-19 vaccines, and vaccine mandates.
The new documents released today reveal even more about how the Deep State, through the GEC, conducts mass surveillance, censorship, and propaganda to target dissenting views. These documents provide evidence that:
The GEC coordinates with a global cartel of Soros-, Gates-, Omidyar-, and Big Tech-funded "fact-checkers" through the Poynter Institute's International Fact-Checking Network (IFCN) to control the international media narrative.
Mainstream media organizations that were previously respected for critical investigative journalism now serve as mere organs of state media and purveyors of Deep State propaganda.
The GEC provides financial support to media organizations, which implicates their supposed "independence" as journalists.
A global cartel of "fact-checkers" coordinated through the International Fact-Checking Network (IFCN)
The GEC routinely coordinates with a global cartel of "independent" "fact-checkers" led by the Poynter Institute for Media Studies—which operates Politifact—and members of its IFCN, which received its initial funding from the Department of State-funded National Endowment for Democracy, the Omidyar Network, Google, Facebook, the Bill & Melinda Gates Foundation, and George Soros' Open Society Foundations. Members of this vast cartel range from independent foreign journalists to professional fact-checkers to American mainstream media organizations like the Associated Press and USA Today. Notably, Poynter's IFCN  received a 2021 Nobel Peace Prize nomination.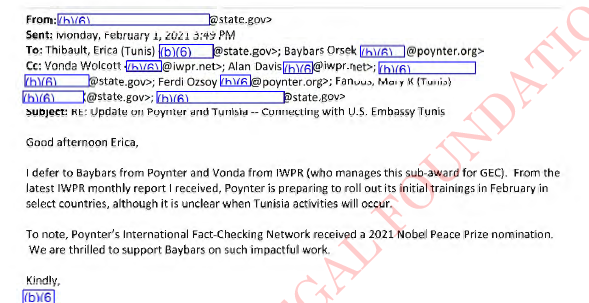 The GEC regularly works with IFCN on targeted campaigns. For example, the GEC worked closely with Baybars Orsek, Poynter's director of international programming, to set up an IFCN partner in Tunisia. The "GEC-funded project" would work on "achieving two main objectives:
1. Launch a Fact Check platform to provide accurate information to media outlets, government officials, and social influencers to counter the Disinformation on the COVID-19.
2. 240 youth are trained to be social influencers or descramblers promoting accurate information in their local communities to help the Ministry of Health MoH disseminate The Crisis and Risks Communication plan related to the COVID-19 pandemic."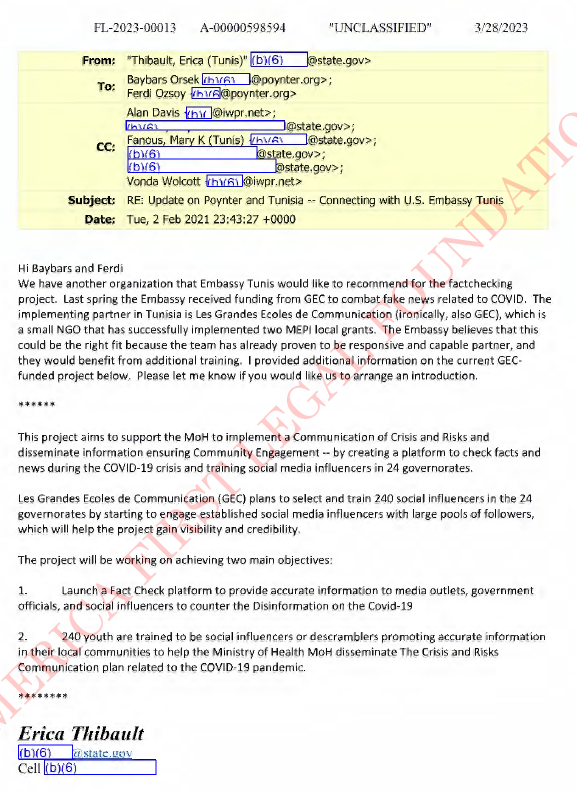 The GEC also funded a grant through the Institute for War and Peace Reporting (IWPR) on "Empowering Fact-Checking in the Global South," and it enlisted Baybars Orsek and Alanna Dvorak, Poynter's International Training Manager, for a potential "mentorship through Poynter/IFCN" in Tunisia. In particular, the GEC aimed to ensure that two specific media organizations in Tunisia would "absorb the fact-checking skills" to censor disfavored narratives from the news.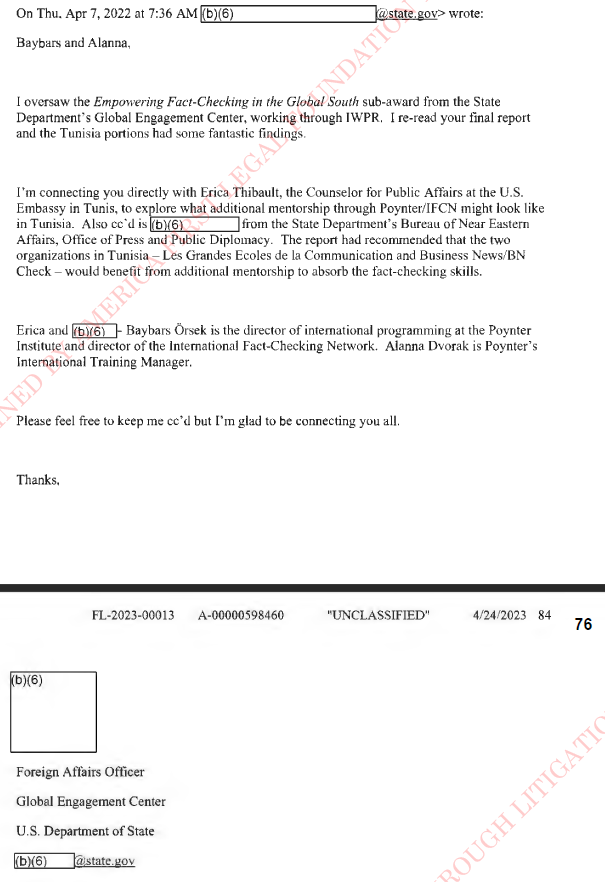 Another email conversation later shows a GEC official thanking the IFCN International Training Manager for "speaking with AfricaCheck about [her] work in Tunisia." AfricaCheck is a fact-checking organization, substantially funded by the Bill & Melinda Gates Foundation, the Google News Initiative, the Open Society Foundation for South Africa, the IFCN, the Omidyar Network, the Department of State, and earned income through Facebook.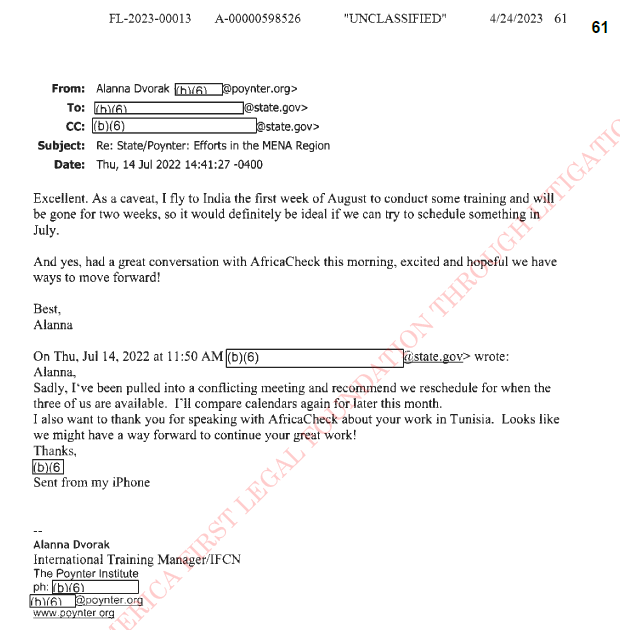 Another email shows the IFCN soliciting the GEC to do additional programming in Egypt (and presumably with additional American taxpayer funding).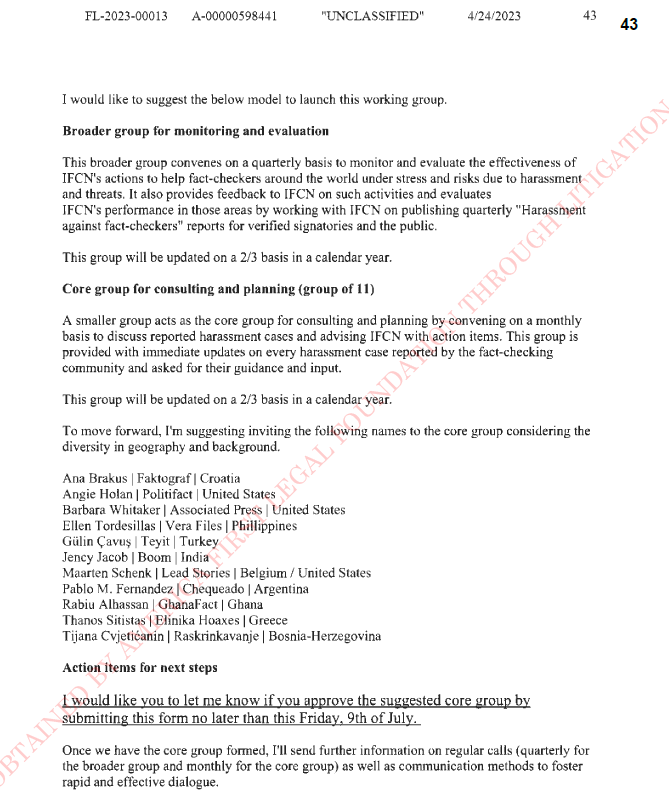 When threatened, they circle the wagons to protect their mutual interests.