You hear it on cop shows all the time. There is a difference between what you know and what you can prove. Finally, there is proof. The Biden campaign, together with the Twitter, Facebook, the FBI and a hyper partisan media altered the outcome of the 2020 election. The proof was furnished to us by Elon Musk, who had promised to be transparent about Twitter's abuse of the truth. Musk wisely chose a left leaning journalist- Matt Taibbi- to post the evidence on Twitter. I asked the Threadreaderapp to put it together and it can be seen here.
There are several key passages in the thread. It began with this
3. 

The "Twitter Files" tell an incredible story from inside one of the world's largest and most influential social media platforms. It is a Frankensteinian tale of a human-built mechanism grown out the control of its designer.

4. 

Twitter in its conception was a brilliant tool for enabling instant mass communication, making a true real-time global conversation possible for the first time.

5. 

In an early conception, Twitter more than lived up to its mission statement, giving people "the power to create and share ideas and information instantly, without barriers."

6. 

As time progressed, however, the company was slowly forced to add those barriers. Some of the first tools for controlling speech were designed to combat the likes of spam and financial fraudsters.
Then Twitter began to evolve into a political weapon. The Biden campaign asked Twitter to "review" accounts and tweets
7. 

Slowly, over time, Twitter staff and executives began to find more and more uses for these tools. Outsiders began petitioning the company to manipulate speech as well: first a little, then more often, then constantly.

8. 

By 2020, requests from connected actors to delete tweets were routine. One executive would write to another: "More to review from the Biden team." The reply would come back: "Handled."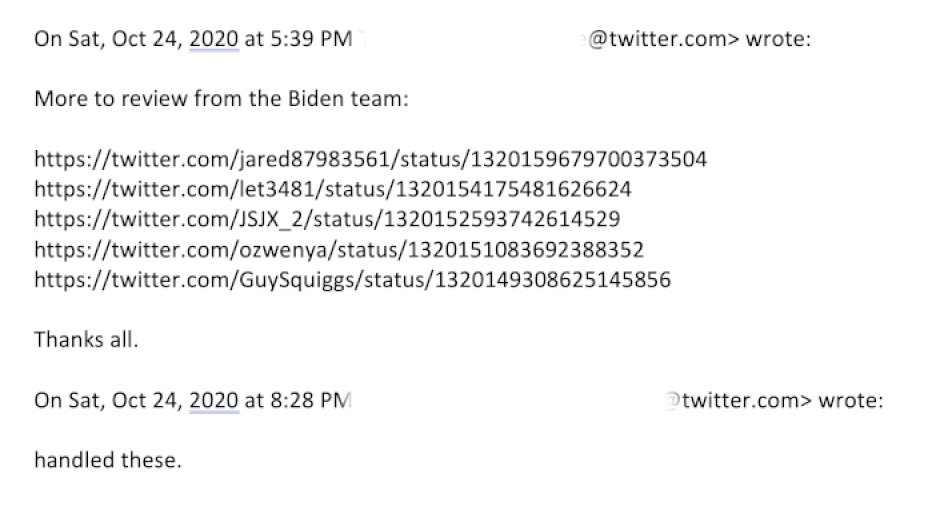 Handled, as in deletion and suspension.
This is how James Woods was gotten rid of (as well as your author)
9. 

Celebrities and unknowns alike could be removed or reviewed at the behest of a political party:

Although both parties had access to the tools, one side dominated the issue as Twitter was overwhelmingly populated by one side
11. 

This system wasn't balanced. It was based on contacts. Because Twitter was and is overwhelmingly staffed by people of one political orientation, there were more channels, more ways to complain, open to the left (well, Democrats) than the right. 

opensecrets.org/orgs/twitter/s…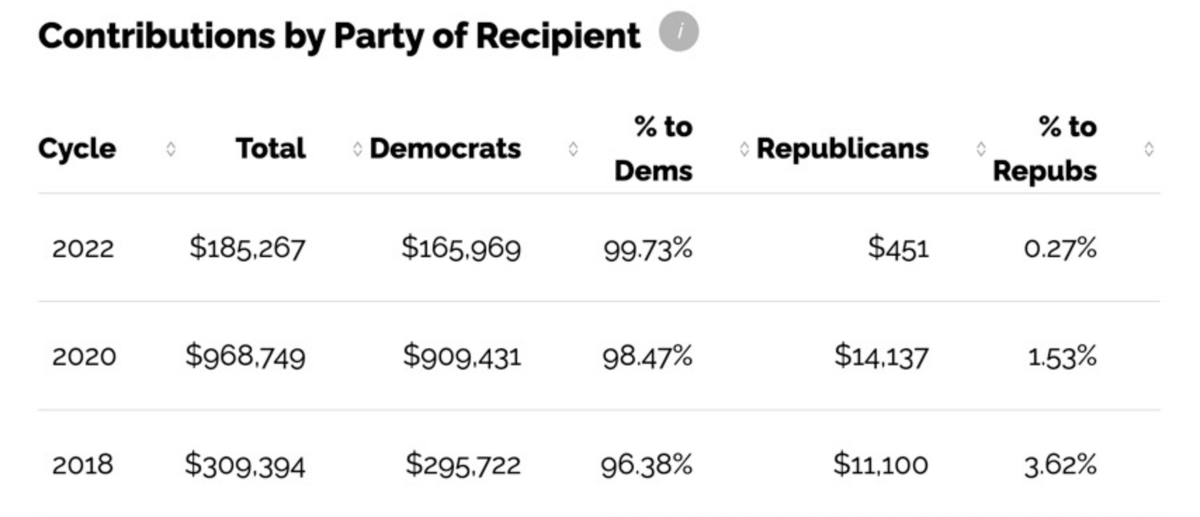 The most egregious crime was blocking the Hunter Biden laptop story, which was published on Oct 14, 2020.
18. 

Twitter took extraordinary steps to suppress the story, removing links and posting warnings that it may be "unsafe." They even blocked its transmission via direct message, a tool hitherto reserved for extreme cases, e.g. child pornography. 
Twitter went so far as to lock the account of White House spokesperson Kayleigh McEnany for simply tweeting about the story
19. 

White House spokeswoman Kaleigh McEnany was locked out of her account for tweeting about the story, prompting a furious letter from Trump campaign staffer Mike Hahn, who seethed: "At least pretend to care for the next 20 days."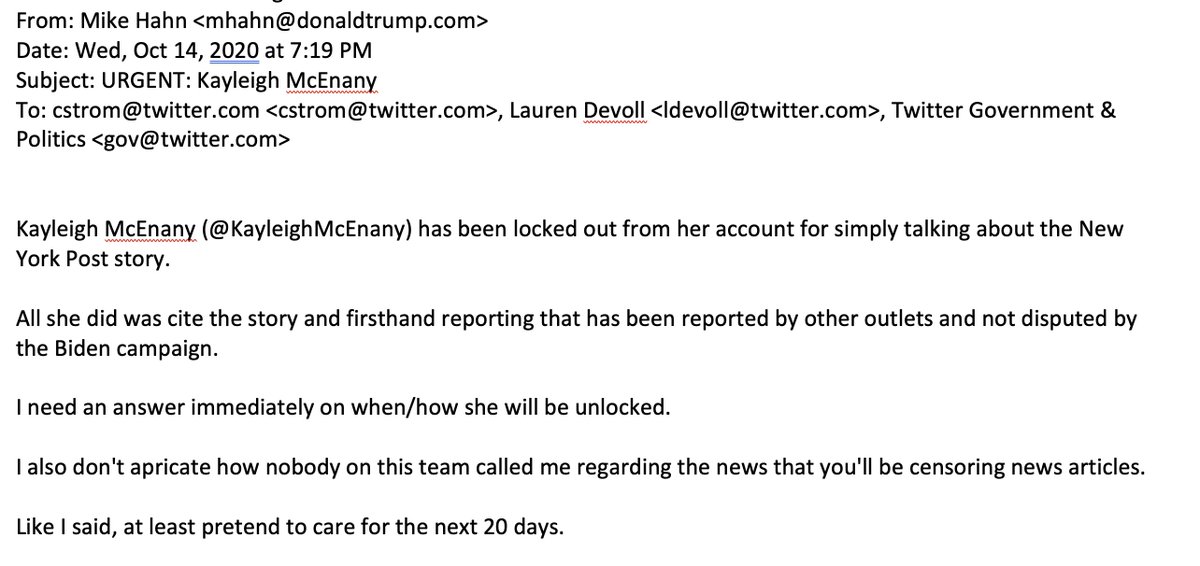 Someone in the system asked why this happened and got this response
21. 

Strom's note returned the answer that the laptop story had been removed for violation of the company's "hacked materials" policy: 

web.archive.org/web/2019071714…

They knew this was garbage
25.You

 can see the confusion in the following lengthy exchange, which ends up including Gadde and former Trust and safety chief Yoel Roth. Comms official Trenton Kennedy writes, "I'm struggling to understand the policy basis for marking this as unsafe":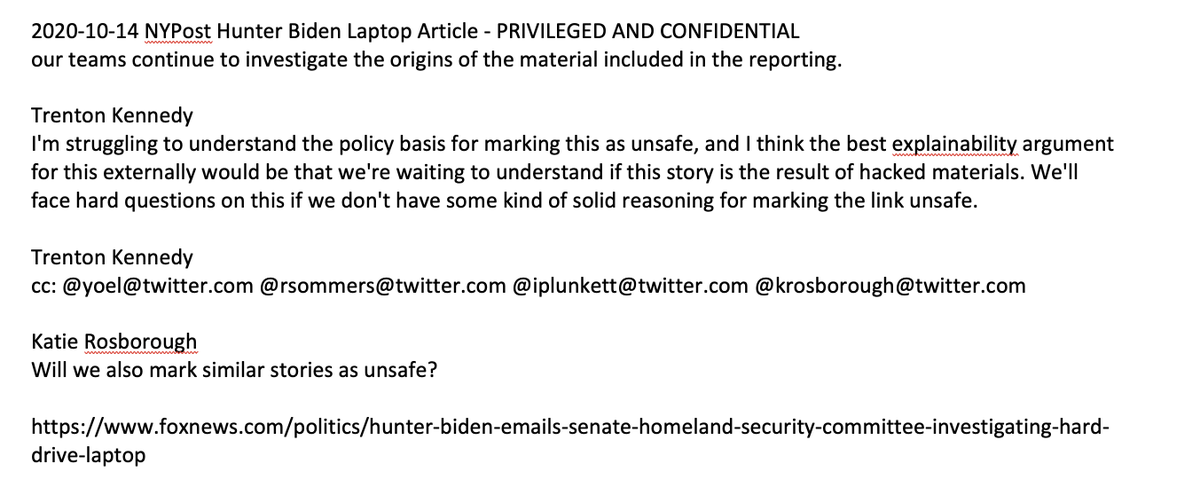 But they stayed the course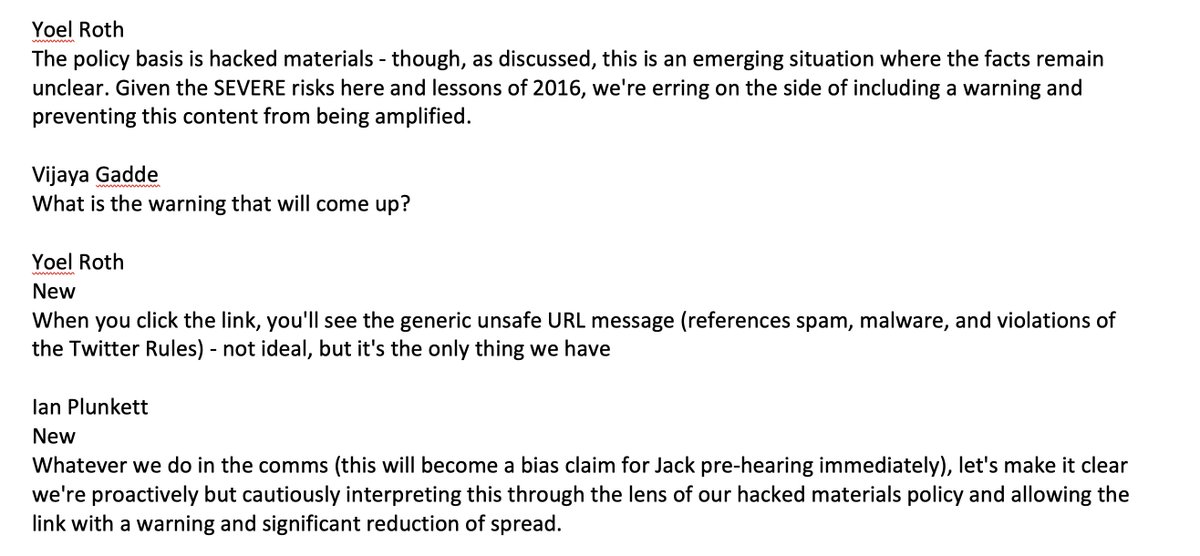 This is where former FBI General Counsel James Baker weighs in and advises continuation of the bad policy

To his credit, only democrat Congressman Ro Khanna seemed to care a wit about free speech and the First Amendment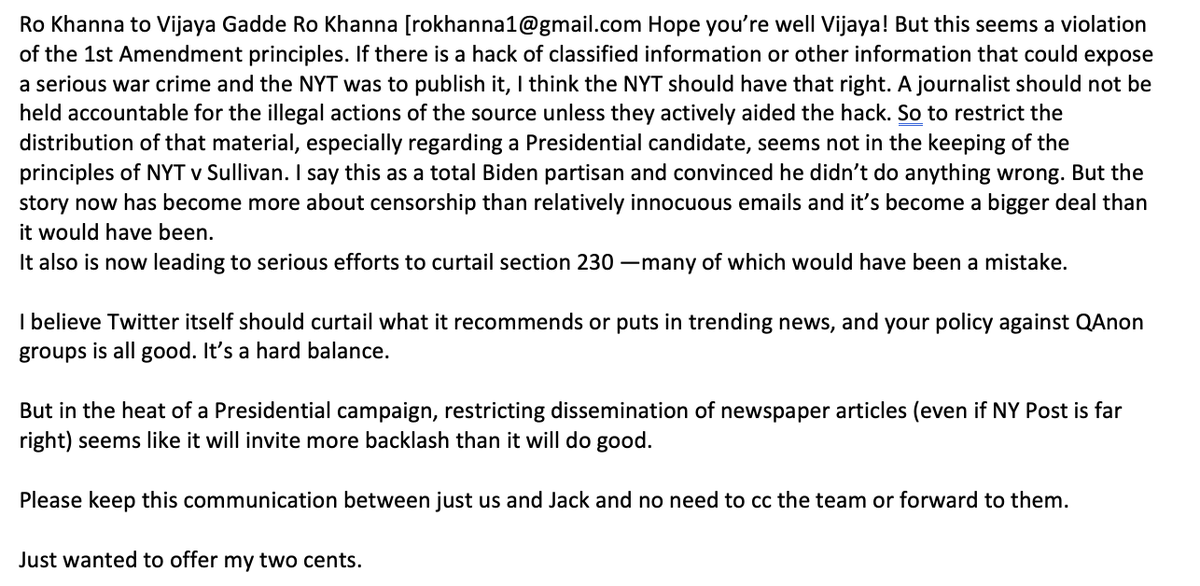 The research firm "NetChoice" polled some members of Congress from the House Judiciary Committee and sent a warning
34.NetChoice lets Twitter know a "blood bath" awaits in upcoming Hill hearings, with members saying it's a "tipping point," complaining tech has "grown so big that they can't even regulate themselves, so government may need to intervene."
Then boom, democrats let the cat out of the bag- they want MORE, not less, censorship
36.Twitter files continued:
"THE FIRST AMENDMENT ISN'T ABSOLUTE"
Szabo's letter contains chilling passages relaying Democratic lawmakers' attitudes. They want "more" moderation, and as for the Bill of Rights, it's "not absolute"

Shockingly, Jack Dorsey wasn't even aware of what was transpiring.
An amazing subplot of the Twitter/Hunter Biden laptop affair was how much was done without the knowledge of CEO Jack Dorsey, and how long it took for the situation to get "unfucked" (as one ex-employee put it) even after Dorsey jumped in.
He even tried to "unfuck it."
There are multiple instances in the files of Dorsey intervening to question suspensions and other moderation actions, for accounts across the political spectrum

The problem with the "hacked materials" ruling, several sources said, was that this normally required an official/law enforcement finding of a hack. But such a finding never appears throughout what one executive describes as a "whirlwind" 24-hour, company-wide mess.
Taibbi himself made clear the problem two years ago
This lack of information proved crucial: One of every six Biden voters we surveyed (17%) said they would have abandoned the Democratic candidate had they known the facts about one or more of these news stories. A shift of this magnitude would have changed the outcome in all six of the swing states won by Joe Biden, and Donald Trump would have comfortably won a second term as president.
Fully 79% of those aware of the Hunter laptop scandal believe the election outcome would have been different had the truth be told and I am one of them. Had the full story of the Hunter Biden laptop and general Biden family corruption and depravity been properly exposed there is no way the corrupt lying pervert Biden is President today and the country is far better off. Biden is an illegitimate President.
And as to the above action? Elon Musk himself put it best:
Elon Musk is saving Twitter and quite possibly, free speech in this country.
Try to find this story anywhere in the left wing media