I have to say I enjoy the smell of liberal tears in the morning. Or afternoon, evening or night. Those tears are flooding the airwaves and it's fabulous- and sad at the same time. Progressives have pushed people too far with their lunatic actions and people are getting weary of it. The horse is dead, but they continue to beat it.
They've run out of cogent thoughts and arguments (which were in short supply anyway), so leftists whip out the sad little things they have in hopes of keeping you down under their thumbs of guilt.
The race card. The fascist card. The homophobe card. Whatever they don't like is racist, fascist or homophobic. It's like watching a kindergarten class being told there would be no ice cream today.
Twitter's staff is emotionally fragile and they don't like Elon Musk so Musk is a homophobe.
One employee at the meeting described Musk as anti-gay and anti-transgender, expressing fear that his ownership would hurt efforts to recruit new employees.

'What should we tell the LGTBQ community at recruiting conferences we're lined up to attend when they ask us why they should come work at Twitter when we just sold ourselves to an open homophobe and transphobe?' the staffer asked Dalana Brand, Twitter's chief people and diversity officer.

Brand diplomatically avoided agreeing with that assessment of Musk, responding: 'I cannot speak to Elon's personal feelings on these things. I can't speak to what he's done in his other companies, in terms of people's experiences.'
Time's Charlotte Alter says free speech is white man's obsession. Neither women nor Asians nor blacks nor Hispanics really care about free speech. Who knew?
In a Friday piece for Time magazine, the outlet's national correspondent Charlotte Alter dismissed Elon Musk's quest for free speech on Twitter as a white male "obsession," and merely an entrepreneurial way to acquire influence and power in the world.

She also claimed that Musk's idea of free speech is about the right to spread "disinformation" and has nothing to do with the Founding Fathers' original intent.

Alter began her piece by insinuating that Musk should have put his $44 billion into something more worthwhile than what he sees as "free speech," a phrase she put in scare quotes throughout the piece.
DNC Chair Jaimie Harrison knows he, his President and his party are utter garbage so the GOP is fascist:
Democratic National Committee Chairman Jaime Harrison said the GOP is a party built on "fear," "fraud" and "fascism" Saturday on the latest episode of MSNBC's The Cross Connection with Tiffany Cross.

His latest comments came in response to Cross showing several clips from a variety of Republican campaign ads, which she said was "just a sample of the Republican craziness on the ballot in the upcoming Midterm elections."

Cross added that the GOP is running on a "platform of lies, fear, sexism and racism," and then mused, "You have to wonder, how are millions of voters so eager to turn this country over to the right-wing extremists that now comprise the GOP?"
The staff over at Apple doesn't want to work in office any more so working in offices is racist:
A group of Apple employees have accused the big-tech giant of racism over its push for corporate workers to return to the office, saying that the shift back to an in-person model will make the company 'younger, whiter, [and] more male-dominated.'

The employees, organized under the newly-formed group Apple Together, petitioned the company on Friday in an open letter after CEO Tim Cook told staffers that they would need to work from the office one day a week starting on April 11, two days per week after three weeks, and three days per week after May 23.

They wrote that the decision to bring employees back to the office was not motivated by a 'need to commune in person,' as Cook wrote in his letter to staff, but rather was driven by the company's 'fear of the future of work, fear of worker autonomy [and] fear of losing control.'
CNN hosts some moron who is absolutely terrified of free speech:
On Sunday's episode of CNN's Reliable Sources, media analyst and rabid leftist David Zurawik claimed that Congress needs to step in to regulate social media platforms now that free speech advocate Elon Musk has bought Twitter.

"I think there's a bigger problem that when we focus on the personalities of people like Elon Musk," Zurawik said before complaining that there's too much focus on speculating over what Musk is thinking or what his intentions are for the social media platform that he recently purchased.
We didn't need to regulate anything as long as progressives (i.e. Communists) controlled social media. BTW, Musk voted for Obama.
Parental rights is like segregation!
Toward the end of the sympathetic interview, Golodryga went along with her guest comparing supporters of parental rights in schools to people who supported racial segregation:

MCMORROW: And I think we're going to find that, once we see each other as people, we don't have this fearmongering that's really reminiscent of the same language that we saw during segregation when parents and certain groups were arguing against their kids seeing black kids in their school.

GOLODRYGA: Right. And I'm glad you brought that up because you do flag that in your speech as well. It's, I think, accepted and it often times happens that a new generation says, you know, "This is a crisis moment — we've never experienced something like this."
I don't like Tucker Carlson, therefore he stokes white fears!
In the years since, Mr. Carlson has constructed what may be the most racist show in the history of cable news — and also, by some measures, the most successful. Though he frequently declares himself an enemy of prejudice — "We don't judge them by group, and we don't judge them on their race," Mr. Carlson explained to an interviewer a few weeks before accusing impoverished immigrants of making America dirty — his show teaches loathing and fear. Night after night, hour by hour, Mr. Carlson warns his viewers that they inhabit a civilization under siege — by violent Black Lives Matter protesters in American cities, by diseased migrants from south of the border, by refugees importing alien cultures, and by tech companies and cultural elites who will silence them, or label them racist, if they complain. When refugees from Africa, numbering in the hundreds, began crossing into Texas from Mexico during the Trump administration, he warned that the continent's high birthrates meant the new arrivals might soon "overwhelm our country and change it completely and forever." Amid nationwide outrage over George Floyd's murder by a Minneapolis police officer, Mr. Carlson dismissed those protesting the killing as "criminal mobs."
In other words, Carlson does actual, factual reporting and I don't like the seamy side of truth being exposed.
Then there is the single worst cable network. It promotes racial hatred on a daily basis and its hatred crosses ethnic lines:
Black Republicans work for the White Man. That's a theme of Tiffany Cross's MSNBC show. She began a segment on Saturday with "I'm just going to say it: I don't know a lot of black Republicans who really ride for black people." She showed video of Virginia's Lieutenant Governor Winsome Sears, Herschel Walker, and Sen. Tim Scott.

Cross brought on her resident provocateur Elie Mystal said that black Republicans like Herschel Walker are "tokens":

I make a hard distinction between black conservatives, of which there are many: one of whom [Eric Adams] was just elected mayor of New York City, in fact, and these tokens, who are out here right now, shucking and jiving for their white handlers. 
Black conservatives are "shuckin' and jivin' for their white handlers." That is really ugly.
On the worst network is arguably the worst person on cable or on TV period. Said person owns a single lens and funnels absolutely everything through it. It is the lens of racial hatred, and its operator is racial blowtorch Joy Reid:
REID: Musk Misses Apartheid, Wants Conservatives to Attack Jews, Women
"Elon Musk's companies have a history of open racism, you know. There's been this lawsuit against Tesla and he himself is a troll so his idea of freedom means freedom to be a jerk and to be cruel and to have no one be able to stop you,"
"Imagine if the worst most obnoxious person you've ever met had access to all your DMs and had the right to put them out whenever they want. Like that is essentially what people are looking at."  
"The thing is the enjoyment they get out of being in this town square is being able to harass people, being able to attack people,"
"He misses the old South Africa in the 80s. He wants that back." 
All because Musk wants free speech and said he hopes that his worst enemies would remain on the platform.
This one is really sad. She intimates that the parents of these black children are stupid
MSNBC's Joy Reid accuses Ron DeSantis of 'child abuse' after black kids hold up anti-CRT signs
In a tweet Friday night, Reid used phrases such as "anti-Black" and "extra sick" to describe the sentiment she felt while reacting to an evening tweet from Florida state Sen. Shevrin Jones, who tweeted earlier: "The fact that @GovRonDeSantis had these Black young men, who are not clear on this message, holding up a sign about something they know nothing about is the real indoctrination."
"This mis-use of Black boys is tantamount to child abuse," Reid tweeted.

"I would really like to hear the back-story on who these kids were and how they wound up at a DeSantis event. Given how anti-Black DeSantis is, using Black children this way is extra sick,"
Of course. Those kids belong on the Joy Reid plantation and nowhere else. The kids were there under the aegis of one Jack Brewer, former NFL player
The kids in the photo are part of programs Brewer founded, including The Serving Institute and The Heroes program, which fall under the umbrella of his organization The Jack Brewer Foundation.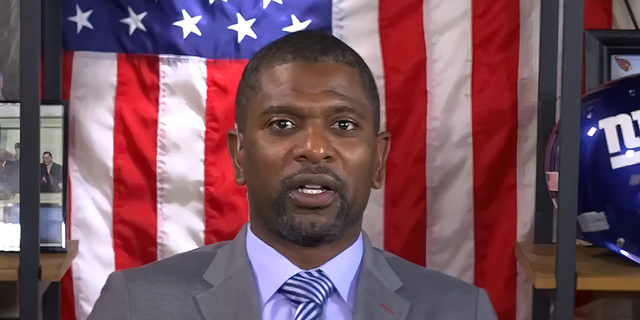 Brewer told Fox News Digital that the boys in the photo "knew exactly what they were for." They had also supported DeSantis in the past, including earlier this month when the governor signed a bill providing more than $70 million to support fatherhood.
Maybe it's fatherhood thing that rankles Reid.
"It was explained to them on the bus … It was explained to them while they were there. Yeah, my kids don't identify with CRT because we don't believe in it," he said. "We believe in loving everybody and not separating people by their skin color. That's what we teach. Our program teaches to love this country. To love God first. To love their neighbor as themselves."
Maybe it's Reid who would like to see a return to segregation. She certainly doesn't want peace between races. And the parents and relatives of these kids?
Fox News Digital also spoke to an aunt and guardian to one of the boys in the photo amplified by Reid, who recounted that "people are upset on our behalf because they know that these kids have been taught to love, not hate and animosity toward other people."

"I just think it's pretty outrageous that Joy Reid's thought process is that people can't have independent thinking about matters like CRT," Jane Halbritter told Fox News Digital in a phone interview Monday.

Halbritter added that her nephews in Brewer's programs are "very articulate on [CRT] and are just very, very upset and hurt by what [Reid] said."
Reid's slander is not sitting well with Brewer.
"We are a faith-based program where we stand firm on the word of God," Brewer told Fox News Digital in a phone interview Monday. "For people to be questioned … this is just a tragedy, and this is the problem with Black America. This is the problem with underserved communities right here. Joy Reid is the example of the crisis going on in Black America."
He is demanding an apology or else
"Joy Reid messed with the wrong boys," Brewer told Fox News Digital on Monday, adding that he has also retained legal counsel about a potential defamation suit.
Reid could have done some actual reporting. She could have picked up her cell phone and called Jack Brewer. But she didn't because she wanted something incendiary for the dwindling ignorant morons who continue to watch her.
We used to call people like Reid liberals. They're not liberals. At one time liberals were expected to be more tolerant of differing thoughts and opinions. Those days are long gone. Liberalism has metastasized into a race baiting fascist progressive mentality. The country is getting a real good taste of life under Progressivism; unending pandemics, skyrocketing crime, inflation, economic crises, wars and ten percent for the big guy.
We can only hope that these are last dying gasps of an effort at perversion of this nation. None of it makes us better or stronger. None of it brings people together.