Nina Jankowicz is the Czar of Biden's newly minted Disinformation Governance Board. The 33-year-old comes equipped with a vastly oversized ego and little else. No one thinks more of her than does she.
She claims that she wants to protect free speech. On the other hand, she opposes free speech.
Jankowicz also suggested last week that she opposes The First Amendment because she thinks it is bad for 'marginalized communities' and called Elon Musk a 'free speech absolutist' because he wants to make Twitter more open to all voices.
Se echoed the falsehood that the Hunter laptop was Russian disinformation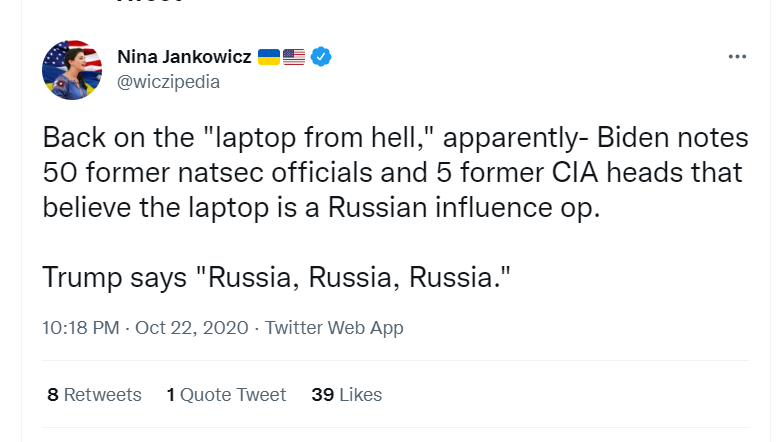 When questioned, she said she was just live tweeting. Except… she asserts that she is opposed to disinformation and claims to be an expert on disinformation, but she is also a purveyor of disinformation:
In an October 2020 report, Jankowicz shared her skepticism of the contents of the laptop and the claims it belonged to Hunter.

'We should view it as a Trump campaign product,' she told the New York Daily News at the time.
Some expert.
Tucker did a nice job of fleshing her out last night.
Meet The Head Of Biden's Ministry Of Truth: Nina Jankowicz pic.twitter.com/g8lsAReMz6

— The Columbia Bugle 🇺🇸 (@ColumbiaBugle) April 29, 2022
And quicker than you could say "mayorkas" Jankowicz gave us a taste of how she plans to rule. You damn well better not mock Kamala Harris
President Joe Biden's new disinformation chief Nina Jankowicz argued online mockery of Vice President Kamala Harris and other women in public life was a threat to national security.

"Platforms and governments aren't doing enough," she wrote on social media. "It's time to act. Our national security and democracy are at stake."

The Department of Homeland Security announced the creation of the new Disinformation Governance Board led by Jankowicz on Wednesday.

Jankowicz argued that Congress should create new laws to block mockery of women online, citing the volume of "gender disinformation" used to criticize Harris.

"Congress should reauthorize the Violence Against Women Act (VAWA) and include provisions against online gender-based harassment," Jankowicz wrote in a WIRED article highlighting the "abusive content" sent on social media to women in public life.
Got that? Mocking Harris is a threat to national security. Are you clear?
Me neither. If mocking a national figure is a threat to national security, we might as well burn the Constitution tomorrow.
Jankowicz is an immature narcissist dressed up as a serious government employee. In September she testified in the UK
During her testimony, she argued that "gender misinformation" was also a "national security concern."

"It is not just a democratic concern; it is a national security concern, which should make it of interest to everybody in government," she said. "It is not just about hurt feelings. It really affects the way our countries operate."

Jankowicz cited online mockery of other political women including Rep. Ilhan Omar (D-MN), Rep. Alexandria Ocasio-Cortez, and Gov. Gretchen Whitmer to solidify her argument.
Notice anything missing? Like Sarah Palin, Lauren Boebert, Marjorie Taylor Greene, Elise Stefanik, Kristi Noem? All have been the target of ridicule but none appear on Jankowicz's radar. Something is different about them. I'm stumped as to what.
Biden and Mayorkas have absolutely no business declaring war on the First Amendment. It is utterly un-American and made even worse by putting this partisan hack self-imported adolescent in charge. She is, however, a good fit for the Bidenazis.