Led by that moron Bill DeBlasio many democrats are pushing vaccine passports.
NEW YORK — When New York City announced Tuesday that it would soon require people to show proof of at least one coronavirus vaccine shot to enter businesses, Mayor Bill de Blasio said the system was "simple — just show it, and you're in."
Never mind the complete loss of privacy and HIPAA violations
But the mainstreaming of these credentials could also usher in an era of increased digital surveillance, privacy researchers said. That's because vaccine passes may enable location tracking, even as there are few rules about how people's digital vaccine data should be stored and how it can be shared. While existing privacy laws limit the sharing of information among medical providers, there is no such rule for when people upload their own data onto an app.
You really want to do this?
As of this week, 70% of the adult population in the United States have received at least one dose of a COVID-19 vaccine. While this progress represents a marked achievement in vaccinations that has led to steep declines in COVID-19 cases and deaths, vaccination coverage—and the protections provided by it—remains uneven across the country. With the growing spread of the more transmissible Delta variant, cases, hospitalizations, and deaths are once again rising, largely among unvaccinated people. While White adults account for the largest share (57%) of unvaccinated adults, Black and Hispanic people remain less likely than their White counterparts to have received a vaccine, leaving them at increased risk, particularly as the variant spreads.
Here's the chart: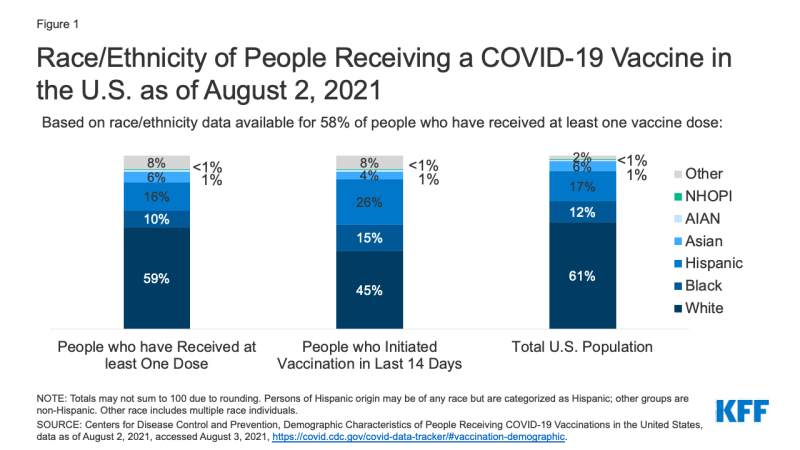 Blacks and Hispanics are proportionately far less vaccinated than whites. That means vaccine passports would be racially biased against these minorities, limiting their freedom to frequent restaurants and travel.
Young people and minorities are most hesitant to get vaccinated.
Biden won 92 percent of the ballots cast by black voters and 59 percent of those cast by Hispanic voters, according to Pew. But both of those groups lag when it comes to vaccinations.
Why are they hesitant? They believed Joe Biden and Kamala Harris.
"The fact that you continue to undermine public confidence in a vaccine, if the vaccine emerges during the Trump administration, I think is unconscionable."

That was then-Vice President Mike Pence's rebuke of his opponent, then-Sen. Kamala Harris, in the campaign's stretch-run, when she was talking down Operation Warp Speed, the Trump administration's zealous initiative to push across the finish line the vaccines that pharmaceutical companies miraculously managed to produce by late 2020.

Harris had stated that any such effort pushed by then-President Trump was untrustworthy. This was consistent with the Biden campaign theme that the Trump administration had been incompetent in responding to the COVID-19 pandemic — a position that morphed, when President Biden took office, into a claim that the Trump team hadn't even had a workable plan on vaccine distribution (a claim so patently false that even Anthony Fauci, director of the Institute of Allergy and Infectious Diseases, denied it).
Harris flat out said she would not take a vaccine recommended by Trump.


They did all they could to frighten people of the vaccines





The New York Times: Biden, Seizing On Worries Of A Rushed Vaccine, Warns Trump Can't Be Trusted With deaths from the coronavirus nearing 200,000 in the United States, Joseph R. Biden Jr. on Wednesday assailed President Trump for playing politics with a potential coronavirus vaccine, saying he did not trust Mr. Trump to determine when a vaccine was ready for Americans. "Let me be clear: I trust vaccines," Mr. Biden said. "I trust scientists. But I don't trust Donald Trump, and at this moment, the American people can't either." (Ember, 9/16)

The Washington Post: Biden Questions Whether A Vaccine Approved By Trump Would Be Safe Joe Biden on Wednesday expressed reservations about whether a coronavirus vaccine approved by the Trump administration would be safe, raising doubts about the president's ability to put the health of Americans before politics. Biden said Americans should trust a coronavirus vaccine developed under the Trump administration only if the president gives "honest answers" to questions about its safety, effectiveness and equitable distribution. "I trust vaccines. I trust scientists. But I don't trust Donald Trump," Biden said. "And at this point, the American people can't, either." (Sullivan, 9/16)
So to all democrats who try to blame Trump for vaccine hesitancy, f**k you. Now you want vaccine passports?
Go ahead, make my day.