Our goal was the universal triumph of the Communism, and for the sake of that goal everything was permissible – to lie, to steal, to destroy hundreds of thousands and even millions of people… everyone who stood in the way".
–Lev Kopelev
AOC is rapidly approaching her transformation into full blooded Communist. She is normally dismissed for her intellectual deficits but now she is engaging in outright deceit and mendacity. She is becoming a wholesale propagandista. This is often described as "gaslighting."
She did just that yesterday.
Murder and crime is skyrocketing in large cities across the nation. Her take on this?
During a conversation with Rep. Jamaal Bowman, D-N.Y., over Zoom, Ocasio-Cortez seemingly cast doubt over the data showing crime rates rising in cities throughout the U.S., especially in New York, where shooting incidents and murders have risen 53% and 13% since the beginning of the year.


"We are seeing these headlines about percentage increases," Ocasio-Cortez said. "Now, I want to say that any amount of harm is unacceptable and too much, but I also want to make sure that this hysteria, you know, that this doesn't drive a hysteria and that we look at these numbers in context so that we can make responsible decisions about what to allocate in that context."
Got that? All those deaths? They're just hysteria. They're not real. They're not important. Those victims aren't really dead, they're just out of context. By the way, that would be the same Jamaal Bowman who called for increased police presence at his house while he was out demanding police be defunded.
Let's have a look at what Sandy Cortez calls "hysteria."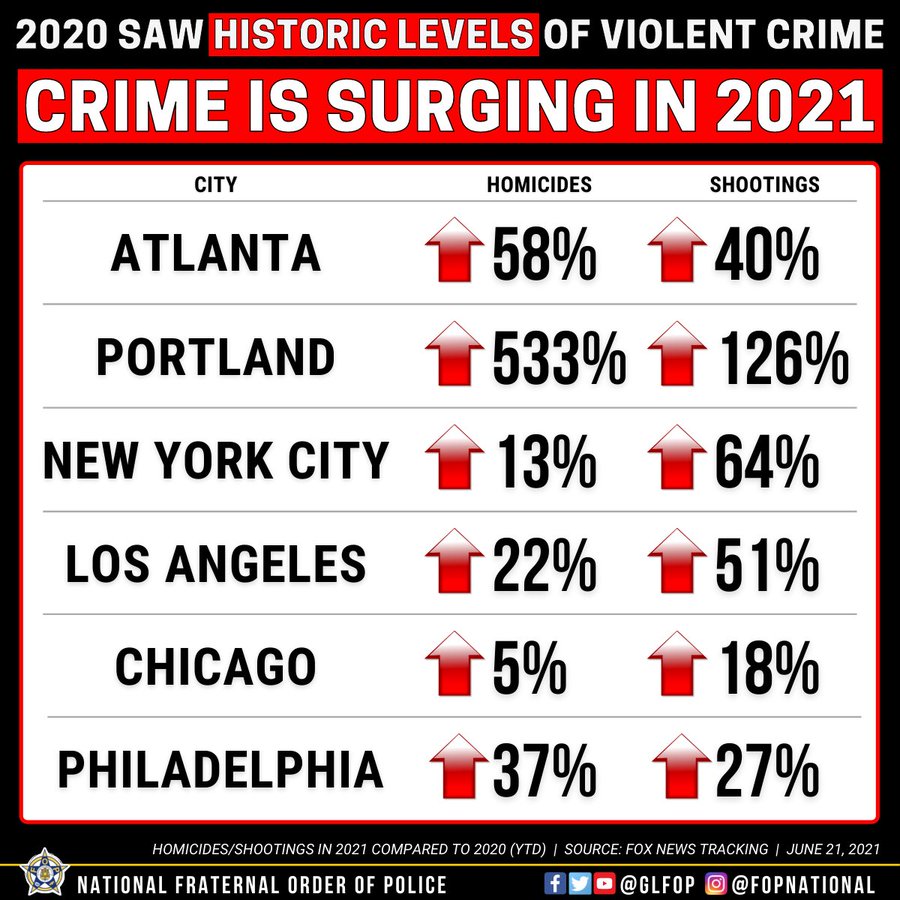 CNN:
The US saw significant crime rise across major cities in 2020. And it's not letting up
Major American cities saw a 33% increase in homicides last year as a pandemic swept across the country, millions of people joined protests against racial injustice and police brutality, and the economy collapsed under the weight of the pandemic — a crime surge that has continued into the first quarter of this year.


Sixty-three of the 66 largest police jurisdictions saw increases in at least one category of violent crimes in 2020, which include homicide, rape, robbery, and aggravated assault, according to a report produced by the Major Cities Chiefs Association. Baltimore City, Baltimore County and Raleigh, North Carolina, did not report increases in any of the violent crime categories.
HPD: 35% increase in murders in 2021 compared to 2020
HPD said there had been 199 murders within city limits through Wednesday, June 10, 2021. Through the same time period in 2020, there had been 148 homicides. That's a 35% increase.
This is a consistent finding across the country, especially in democrat run cities.
Biden's America: 41% increase in cops killed so far this year
Homicides Have Skyrocketed in These Six Democratic Cities; Black People Are Disproportionately the Victims, Data Shows
Black people have represented a massive share of murder victims in six major cities through the first six months of 2021 compared to last year, which itself saw a large crime surge, according to data analyzed by the Daily Caller News Foundation. The DCNF analyzed both police department data and homicide reports compiled by local news outlets to determine how black people have been victimized in the wake of the 2020 crime spike.
This is what Sandy Cortez calls "hysteria." None of that hysteria will stand in the way of her Boshevik reforms. Meanwhile in Cortez' back yard:
Shootings have soared across the five boroughs by nearly 70 percent so far in 2021, according to recent NYPD figures. Murders have risen nearly 12 percent so far this year, too, but compared to 2019, that figure rockets to nearly 50 percent, according to NYPD.
And just yesterday a gunman opened fire in Times Square in broad daylight, striking a visiting Marine outside the Marriott Marquis. The Clueless Commie Cortez still wants police defunded.
But hey, if you can make it there, you can make it anywhere…