It was the Wicked Witch of the West.
We hinted at this previously and now the confirmation is now out there.
It is asserted that Nancy Pelosi is not in charge of security of the House but that is highly misleading. Technically the Capitol police are in charge but they cannot do some things of their own. One of them is deploying the National Guard. Sund testified that he requested the National Guard be put on standby but was rebuffed:
Sund, who resigned his post the day after the riot, told The Washington Post he had been concerned that the protest planned for Jan. 6 would be larger than expected. Sund said he asked House and Senate security officials for permission to request that the National Guard be placed on standby.

Sund said House and Senate sergeants at arms told him they were not comfortable with the "optics" of declaring an emergency days before the protest and suggested Sund should informally ask Guard officials to be on alert. Both have since resigned.

Sund said he pleaded for help five more times as the riot unfolded. A crowd of several thousand quickly overran the Capitol Police contingent of 1,400 officers at the scene.
Yesterday Donald Trump confirmed that he offered to deploy 10,000 National Guard troops prior to the Jan. 6 rally.
"Everyone said we'll be at the rally. It was, I think, the largest crowd that I have ever spoken to before. I have spoken to big crowds, hundreds of thousands of people, more than that, but hundreds of thousands of people."

In response, Trump said he "gave the number" to the Department of Defense, insisting that 10,000 members of the National Guard would be needed.

"They took that number, from what I understand, they gave it to people at the Capitol, that is controlled by Pelosi, and I heard they rejected it because they didn't think it would look good," added Trump in the interview after his Conservative Political Action Conference (CPAC) speech.
The National Pulse also reports that this confirms an article in Vanity Fair
On the evening of January 5—the night before a white supremacist mob stormed Capitol Hill in a siege that would leave five dead—the acting secretary of defense, Christopher Miller, was at the White House with his chief of staff, Kash Patel. They were meeting with President Trump on "an Iran issue," Miller told me. But then the conversation switched gears. The president, Miller recalled, asked how many troops the Pentagon planned to turn out the following day. "We're like, 'We're going to provide any National Guard support that the District requests,'" Miller responded. "And [Trump] goes, 'You're going to need 10,000 people.' No, I'm not talking bullshit. He said that. And we're like, 'Maybe. But you know, someone's going to have to ask for it.'" At that point Miller remembered the president telling him, "'You do what you need to do. You do what you need to do.' He said, 'You're going to need 10,000.' That's what he said. Swear to God."
When Black Lives Matter conducted a protest in June of 2020, the National Guard was deployed.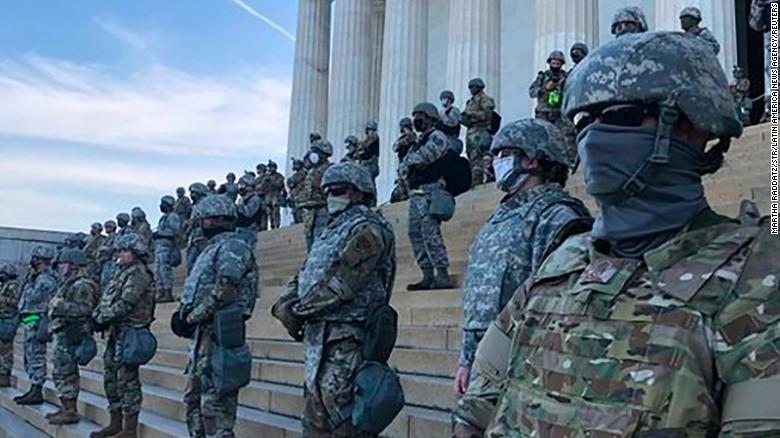 Soon after the Jan. 6 riots the MFM was all fired up blaming Donald Trump for the lack of the Guard presence
One big difference was that Trump was driving the deployment in June. He was silent on Wednesday, apparently unwilling to set troops on his own supporters. The New York Times reported he resisted calling out the national guard. The deployment was finally ordered by the acting secretary of defence, Christopher Miller.
CNN fed the country a similar falsehood
A federal law enforcement official told CNN that DC National Guard did not anticipate being used to protect federal facilities, and the Trump administration had decided earlier this week that would be the task of civilian law enforcement.
Trump cannot deploy the Guard without it being requested.
One is left to wonder about the real reason for refusing the Guard presence and I stick by my assertion.
It was Pelosi's hope that there would be rioting which she could then use as the excuse to impeach Trump and try to prevent him from being a political force in the future. I do think McConnell was on board with this as well. If you remember, McConnell said he thought that Trump could face charges. As CPAC approached McConnell suddenly changed his tune, saying he would support Trump were Trump the 2024 nominee.
Do not underestimate Pelosi. There is nothing she would not do to stymie Trump or do to this country for the sake of control. McConnell will sell out to whomever and whatever keeps him in power.