Alexandria Ocasio Smollett has had a tough month. She was nearly murdered by Ted Cruz in the January 6 riots.
The New York Democrat took to Instagram Live to discuss her experiences during the Jan. 6 rioting, when rioters supporting President Donald Trump stormed the U.S. Capitol, committing acts of vandalism and postponing the certification of the 2020 electoral college results as members of Congress were forced to evacuate the building.

"Hide, hide, run and hide," Ocasio-Cortez recalled one of her staffers telling her.

After hearing loud banging on her office door, Ocasio-Cortez said she hid in her bathroom as she braced herself for her office to be breached.

A man broke into her office, she said, and she could hear him yelling before and after he entered, "Where is she? Where is she?"

"I thought I was going to die," Ocasio-Cortez said. "I have never been quieter in my entire life."
And it was actually worse than that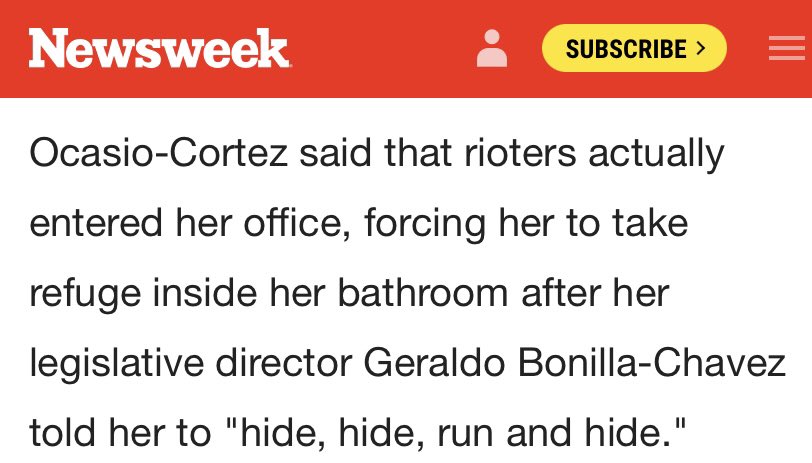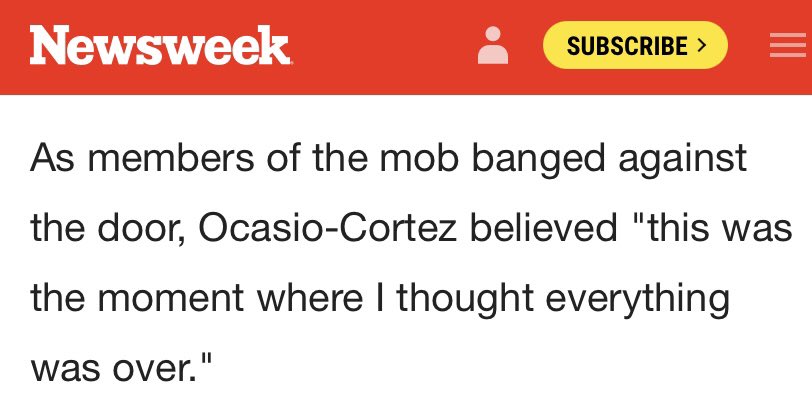 But as it turns out, AOS wasn't even in the building
Rep. Alexandria Ocasio-Cortez (D-N.Y.) was not in the U.S. Capitol Building when a mob violently stormed it on January 6 but rather in her Cannon Office Building office. The second-term congresswoman has since recanted her experience during the deadly siege, which she has described as "near-death." However, no rioters broke into Cannon, a Wednesday report from the conservative publication RedState claims.
But the January riots weren't the only crisis she's survived. She revealed that she was the victim of a sexual assault. Apparently it happened in Manhattan when the temperature was about -10 degrees. After closing a night club where she was tending bar she was reportedly beaten and taunted with misogynistic and racial slurs, doused with bleach, and assaulted with a noose-like rope around the neck by two white men in ski masks and MAGA hats, who told her "This is MAGA country."
She refuses to identify them and the attackers have not been apprehended.
And that's not the only surprise memory
AOC Recalls How She Barely Survived Terrorists Seizing Nakatomi Plaza
WASHINGTON, D.C.—In a recent video, Representative Alexandria Ocasio-Cortez recalled her harrowing experience at Nakatomi Plaza on the night terrorists stormed the building. She describes her near-death experience and what it was like trying to survive.

"I can tell you that I had a very close encounter where I thought I was going to die," said AOC describing the events at Nakatomi Plaza. "Hans Gruber and his armed thugs took control of the building, and everyone was in a panic."

The congresswoman said she was able to sneak away and hide behind a bathroom door for safety. "But suddenly a deranged, barefoot, and bloodied cop wearing a wifebeater came bursting into the bathroom," AOC explained. "His presence just didn't feel right to me. He had so much anger and hostility! He was carrying a gun on his back, and he wasn't yelling like, 'This is Nakatomi Police, this is Nakatomi Police.'"

"And like where was his partner?" she continued. "Nothing was adding up. I just know Ted Cruz was behind all of this and sent this man here to murder me and steal all of the bearer bonds."

"Listen, Lady, I'm John McClane, but you gotta be quiet so I can get you out of here," the cop said.
More at the link
AOS also claims she came under sniper fire while in Bosnia and was an Apollo astronaut.