There has been a significant and ongoing amount of violence in this country over the last six months. America has suffered between $1-2 billion in damages, 700 police have been injured and 30 people have been killed in what the left wing media has described as "mostly peaceful" riots.
BLM/Antifa, having destroyed much of inner city businesses, now is making their way out to the suburbs with their unique brand of violence and intimidation.
Now we are promised more. Much more.
Cities across the country are boarding up in anticipation of riots by Biden supporters.
From New York and DC to Los Angeles and San Francisco, businesses in American cities are boarding up their windows in advance of election-night returns.

What started in Washington, D.C. with the boarding up of businesses located near the White House spread to other major cities across the nation.

…"There is something uniquely heartbreaking about these scattered scenes of boarding-up four days before a presidential election—a feeling that, for people raised with a basic faith in the United States and democracy, seems utterly alien, a world knocked off its axis, Michael Schaffer with the Washingtonian wrote. "People board up for hurricanes and riots, for acts of God and acts of vandals. It's fundamentally disorienting to find that citizens of the world's oldest democracy are reduced to doing so in preparation for a quadrennial ritual dating back to 1788."
George Washington University recommends that its students stock up on rations for a week
"Before Election Day, we recommend that you have at least one week of food, supplies and medicine in your room," the school said in a letter to students. "We suggest preparing for the Election Day period as you would a hurricane or a snowstorm that would prevent you from going outside for several days to grab food or order take."

A university spokeswoman told The Washington Times, "Our goal is to help our campus community plan ahead for any potential disruption that may happen during the election period."
NYC: Many mainstream retail outlets in Times Square are boarding up their windows preparing for the election aftermath

Trucks filled with wood are now pulling up in front of businesses to secure them pic.twitter.com/mY8XXaqO7e

— Drew Hernandez (@DrewHLive) November 1, 2020
Even Boston
We are promised a "bloodbath" if Trump wins:
Progressives, socialists and Bernie Bros are gearing up for war should Joe Biden fall short of his quest to unseat President Trump in Tuesday's election.

"You would see a complete repudiation of the Democratic establishment as we know it," said Jabari Brisport, 33, a Democratic Socialist-backed candidate for state Senate expected to easily win a Brooklyn seat next week. "The Democratic establishment is not working for everyday people."
Which is kind of funny since billionaires and Wall St support Biden over Trump
Unlike the tea party, a progressive revolution would be "a force for good," said the true-believer Brisport.

One senior official at a Democratic Political Action Committee was blunter.




"If Biden loses it's going to be a f–king bloodbath. There's no other way to put it," he said. "Heads will roll. It's going to be ugly."
"Hawk" Newsome added
"You're talking people in the streets refusing to leave. I'm not talking about looting and riots. I'm talking about everyday folks just going out into the streets in protests, like full on people in the streets for months," Hawk Newsome, co-founder of Black Lives Matter Greater New York, told The Post.
Back in January Bernie warned us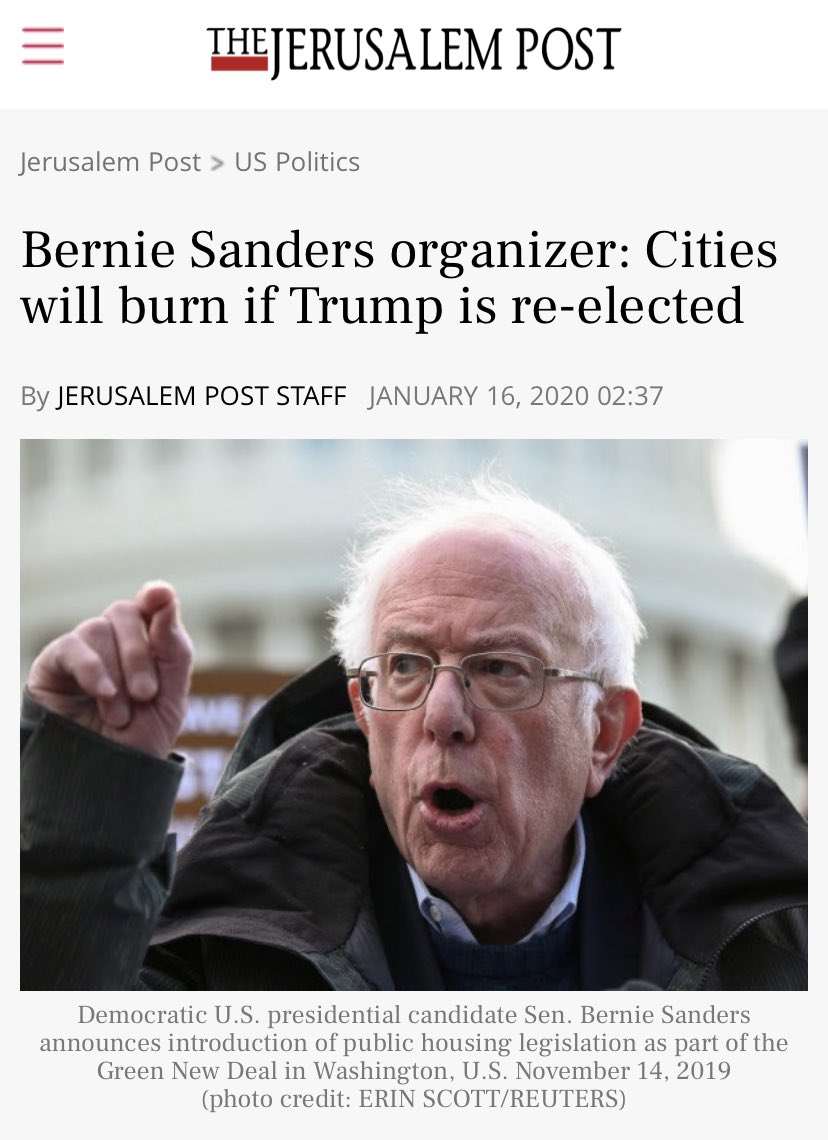 One thing is absolutely certain- it won't be Trump supporters burning those cities.
This kind of intimidation and threatening is exactly why these animals need to be defeated. They've made clear that Biden is their stepping stone to a Communist state. A Biden win would only result in totalitarianism.
Sen. Bernie Sanders (I-VT) spoke to the far-left members of the "Squad" in a virtual roundtable discussion on Friday, emphasizing that electing Joe Biden (D) would not be the "end-all" but only the "beginning" of their plans to push their radical agenda, ultimately making Biden the "most progressive president since FDR."
It's entirely realistic as Biden is the only candidate who can hide his own Easter eggs.
I'll leave you with a bit of dark humor about events as seen through the eyes of the press.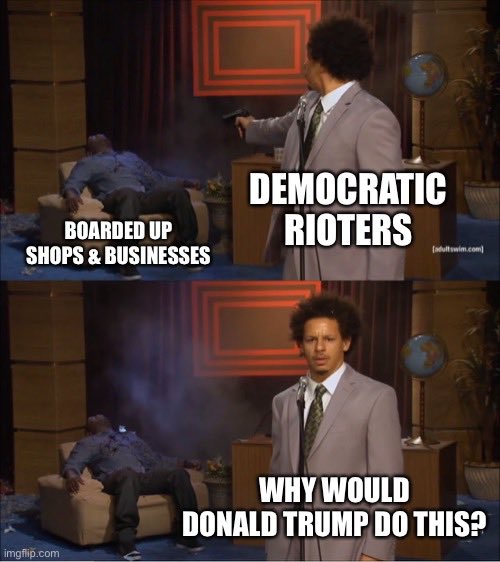 Lock and load.