Nancy Pelosi, after what seems to be over hundred years in office, is bent on removing eleven Confederate statues from the US Capitol.
In a letter sent on Wednesday, Pelosi asked the Joint Committee on the Library — led by Senate Rules and Administration Chairman Roy Blunt, a Missouri Republican, and House Administration Chairwoman Zoe Lofgren, a California Democrat — to direct the Architect of the Capitol to remove the statues of soldiers and officials who represent the Confederacy.

Pelosi specifically mentioned two prominent Confederates — Jefferson Davis and Alexander Stephens — who served as president and vice president of the Confederate States of America, respectively, and who were charged with treason against the United States. Stephens' statue was given by Georgia and Davis' by Mississippi.
They're all democrats, BTW.
Additionally, she is removing Confederate portraits as well
Speaker Nancy Pelosi (D-Calif.) on Thursday ordered the removal of four portraits in the Capitol of previous House Speakers who served in the Confederacy.

The move marks Pelosi's latest effort to take down Confederate imagery in the Capitol, following her push last week calling for the removal of 11 Confederate statues displayed in the Capitol complex.

"We didn't know about this until we were taking inventory of the statues and the curator told us that there were four paintings of Speakers in the Capitol of the United States, four Speakers who had served in the Confederacy," Pelosi told reporters in the Capitol.
Well, while y'all are removing statues, what about the one above?
The statue is of Robert Byrd, former Senator from West Virginia.  The man was a racist by anyone's standards.
The guy was a library of racism
The racist Byrd was lionized by democrats
When Byrd died in 2010, he had served in the Senate longer than anyone else; the New York Times described him as "a pillar of Capitol Hill." In a statement, then-President Barack Obama called him "a voice of principle and reason." Biden said Byrd was "a dear friend."
Byrd was an "Exalted Cyclops" in the Ku Klux Klan.
If there ever was a statue that screamed for removal, it's Byrd's.
Your move, Pelosi.
PS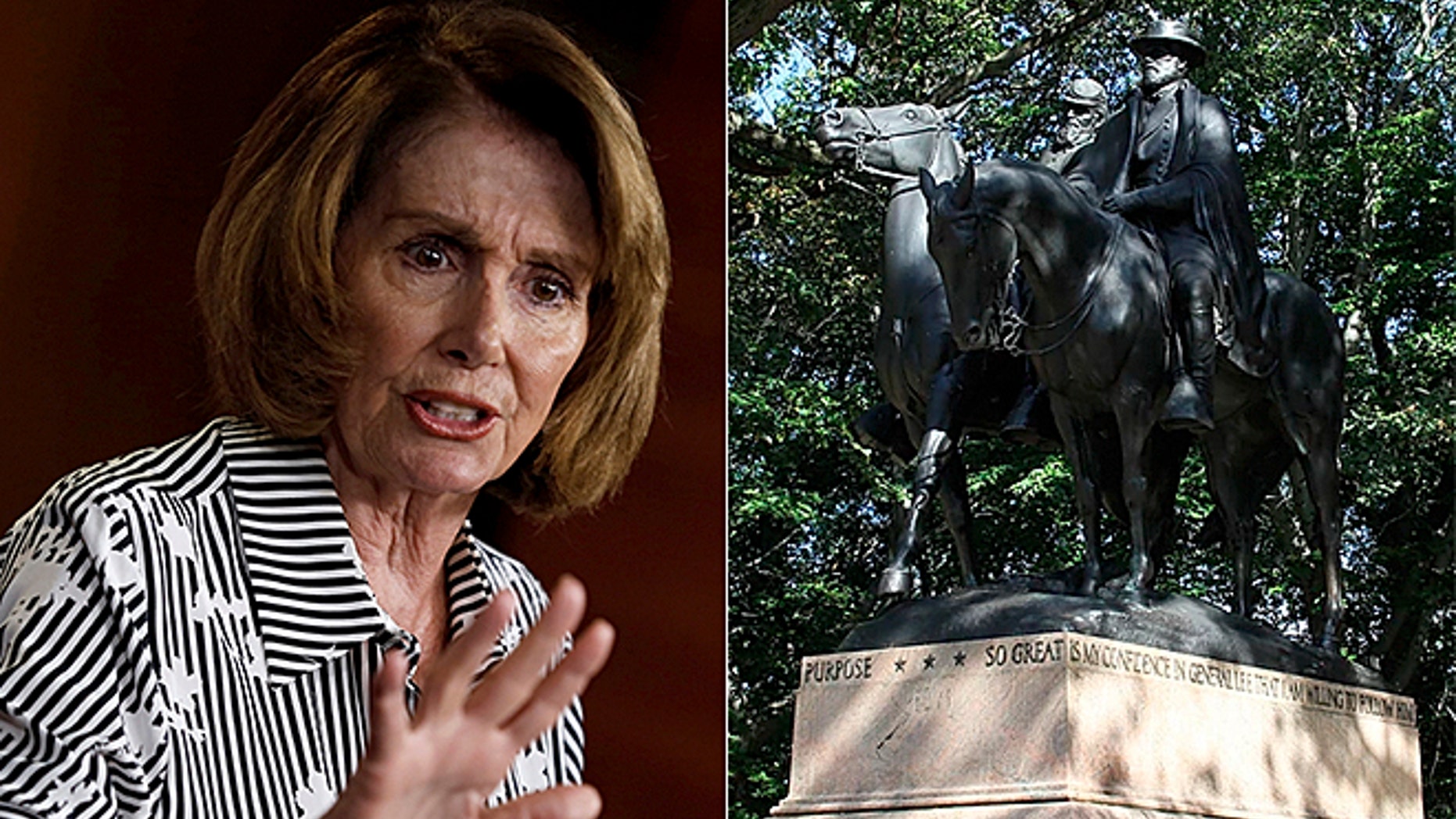 The Confederate statue dedicated by Pelosi's father was taken down 3 years ago. Her father, Mayor of Baltimore, had this to say at its dedication:
It was May 2, 1948, when, according to a Baltimore Sun article from that day, "3,000" looked on as then-Governor William Preston Lane Jr. and Pelosi's father, the late Thomas D'Alesandro Jr., spoke at the dedication of a monument to honor Confederate generals Robert E. Lee and Thomas "Stonewall" Jackson.

The article said Lane delivered a speech, and Mayor D'Alesandro "accepted" the memorial.

"Today, with our nation beset by subversive groups and propaganda which seeks to destroy our national unity, we can look for inspiration to the lives of Lee and Jackson to remind us to be resolute and determined in preserving our sacred institutions," D'Alesandro said in his dedication. "We must remain steadfast in our determination to preserve freedom, not only for ourselves, but for the other liberty-loving nations who are striving to preserve their national unity as free nations."

He added: "In these days of uncertainty and turmoil, Americans must emulate Jackson's example and stand like a stone wall against aggression in any form that would seek to destroy the liberty of the world."
Pelosi never once recommended that statue be removed. Her continued silence suggests she is feeling a heavy guilt at her father's racist past and that it clearly stains hers as well.
She really should resign in disgrace.