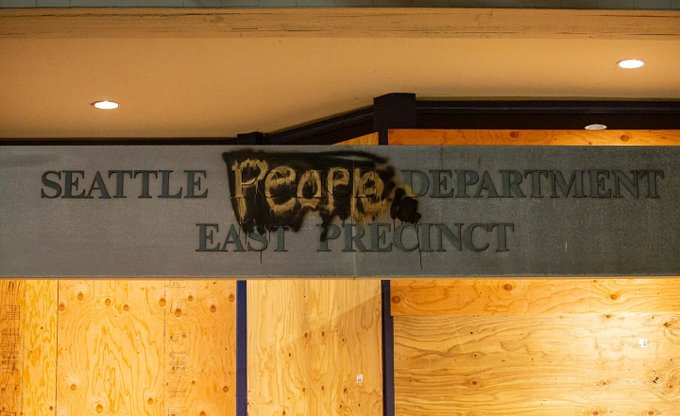 You won't find any coverage of it in any legacy network democrat owned media, but the crazies in Seattle have seized a six block section of town, blocked all the streets in and out, seized a Seattle police department precinct (with the acquiescence of the SPD chief) and declared it "autonomous."
If you haven't read "Lord of the Flies" you will see it play out in Seattle over the next week or so.
The feckless Governor of Washington, Jay Inslee, claimed he knew nothing of it.
It is no small irony that the first thing these twinkies did was to put up a wall around their "zone" to keep out certain people.
"Autonomous zone"
Listen to this Anitfa soy thing explain the Seattle autonomous zone makes it want to cum! 😭😭😭😭😭😭😭😭😭😭😭😭https://t.co/5nkZkQoNNy pic.twitter.com/DhWuJwnTdf

— Karli Q ⭐️⭐️⭐️ (@KarluskaP) June 10, 2020
They're an independent "zone" with no government, no police. Outside of the US. With city water, city sewers and city electricity of course.
This is autonomous as in Mommys' basement autonomous.
Within two days they're begging for food.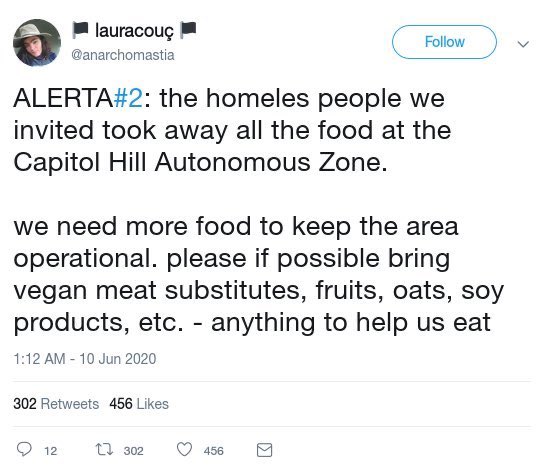 All this is working out as well as you would expect
Speaking on the condition of anonymity because they are not authorized to discuss the unfolding situation, the official told Fox News some people living in the area — which includes numerous bars, restaurants, businesses and private residences  — have been "begging for help because they are not being allowed into their homes without ID."

Police have been told to stay away from the region unless there is a call to 911 for help.

The official also added that leaders in the anti-cop zone are "starting to extort money from the local businesses within the border for 'protection.'"

Mckenzie Diamond, who lives in the "Autonomous Zone," told Kiro 7 the experience has been "a bit stressful."

"It's like checking in with somebody to get into your own home," Diamond told the news outlet.  "Just making it so people can get into their buildings. Keep the zone however they want, and move the fencing so people can go home."

"No one at these checkpoints has the legal authority to demand identification from anyone. We ask if anyone is subjected to these demands to call 911 and report the incident," Nollette said.

"While Washington is an open-carry state, there is no legal right for those arms to be used to intimidate community members," she told Komo News. Nollette also added that they are aware of threats to burn down the East Precinct, which she said "would endanger residents, firefighters and businesses."
"Police have been told to stay away from the region unless there is a call to 911 for help."
Excuse me? What about all that autonomous crap?
Did someone mention protection?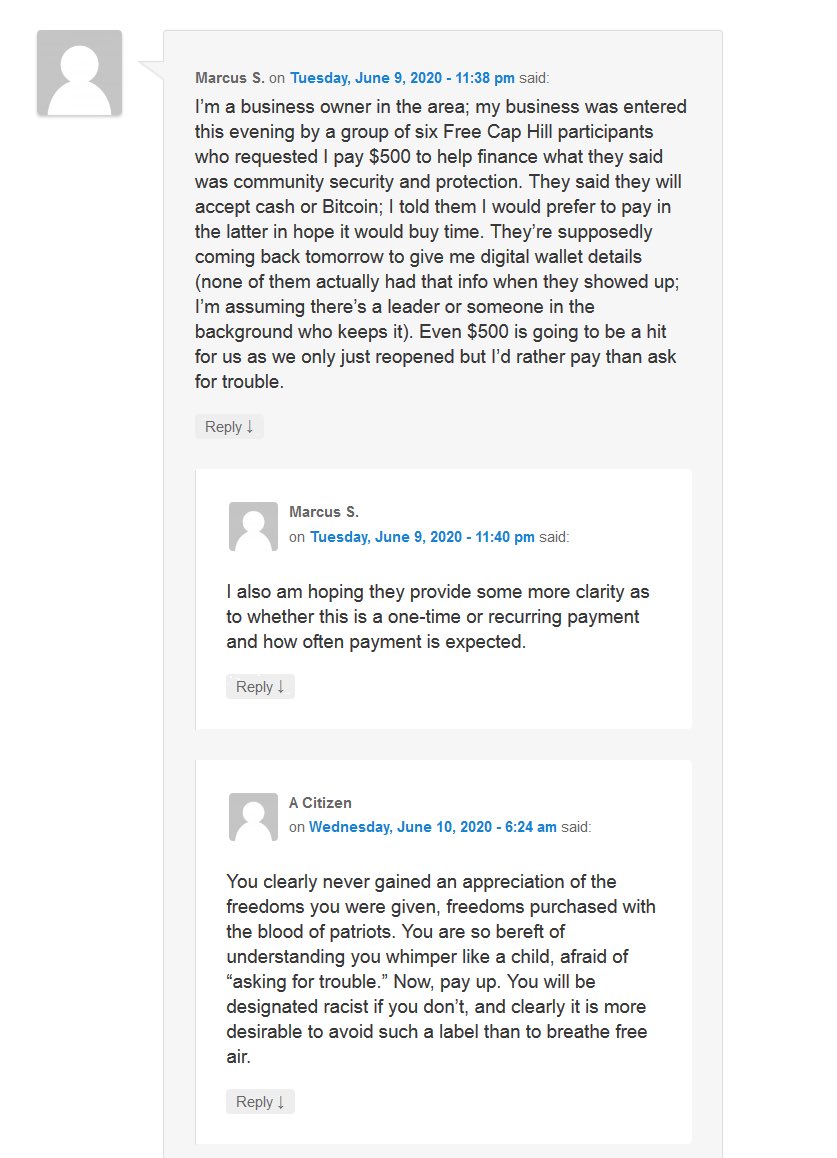 And here it comes
And here is a video of Simone allegedly harassing a woman in "The Family," an organized prostitution scheme.https://t.co/RqZJvsMhTU

— Christopher F. Rufo ⚔️ (@realchrisrufo) June 10, 2020
This is a thing of beauty. I hope it's real.
https://twitter.com/School_Project/status/1270865097712336900
Seattle Mayor Jenny Durkan thinks it's a block party.
"We've got four blocks in Seattle that you just saw pictures of that is more like a block party atmosphere," she said. "It's not an armed take over. It's not a military hunta. We will make sure that we can restore this but we have block parties and the like in this part of Seattle all the time. It's known for that."
Beg to differ, says SPD Chief Carmen Best
https://twitter.com/MrAndyNgo/status/1271291958296604675
The Capitol Hill Autonomous Zone (CHAZ) is really a giant playpen for unruly children. Unruly children pretending to be real adults. If they really want to be autonomous and separate from the United States then there are steps that should be taken. City water, gas and electricity should be cut off. Cell phone coverage should be shut down. No services should be permitted to enter. No one should be able to leave the playpen without a US passport. As they want the police defunded, no police protection or response should be provided. Fire department services should be suspended, including EMT response.
Let the twinkies learn the hard way what autonomous and independent really mean.
This will not end well.