On Saturday I posted a piece noting that obama and democrats were in a state of panic. Now, their stooges in the left media join them in utter panic.
You're going to see the word "deceptive" a lot.
Jimmy Kimmel deceptively altered a video of Mike Pence delivering medical supplies.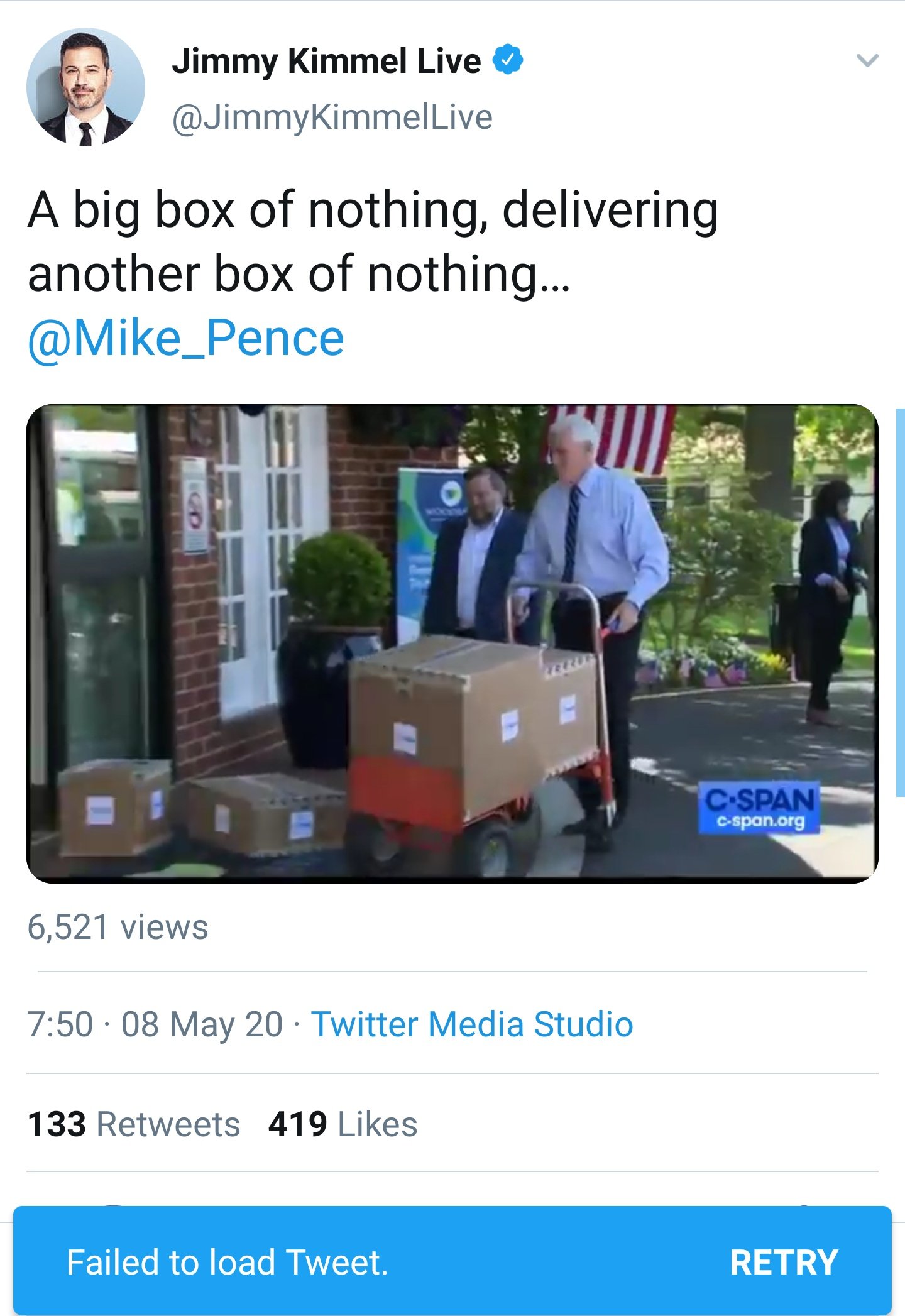 A small sampling of media people and Democrats pushing Jimmy Kimmel's deceptively edited video of Mike Pence delivering PPE. pic.twitter.com/GGUTL8JkyV

— Julio Rosas (@Julio_Rosas11) May 8, 2020
It's a late night show, right? That didn't stop the left wing media from using it as news.
It was retweeted endlessly
Kimmel's video can be seen at Newsbusters. Kimmel later issued a half-assed apology that blamed Pence for Kimmel's deceit.
it would appear that @vp was joking about carrying empty boxes for a staged publicity stunt. The full video reveals that he was carrying full boxes for a staged publicity stunt. My apologies. I know how dearly this administration values truth. https://t.co/hI9cO4lxcX

— Jimmy Kimmel (@jimmykimmel) May 8, 2020
Kimmel is an ass, but perhaps the most interesting thing is that the left wing media idiots swallowed Kimmel's piece as fact without the least question. Kimmel is now a left wing media news source. That's the level of quality now. Go figure.
Yesterday was a banner day for the mendacious left wing media. "George Costanza" Stelter did his best to shake his viewers off the trail of Obama being directly involved in the plat against Flynn and Trump:
Also yesterday Chuck Toad deceptively edited the words of AG Bill Barr in order to ding Barr on Meet the Press. Barr's spokesperson Kerry Kupec saw it and took exception
Very disappointed by the deceptive editing/commentary by @ChuckTodd on @MeetThePress on AG Barr's CBS interview.

Compare the two transcripts below. Not only did the AG make the case in the VERY answer Chuck says he didn't, he also did so multiple times throughout the interview. pic.twitter.com/PR1ciceMmE

— Kerri Kupec DOJ (@KerriKupecDOJ) May 10, 2020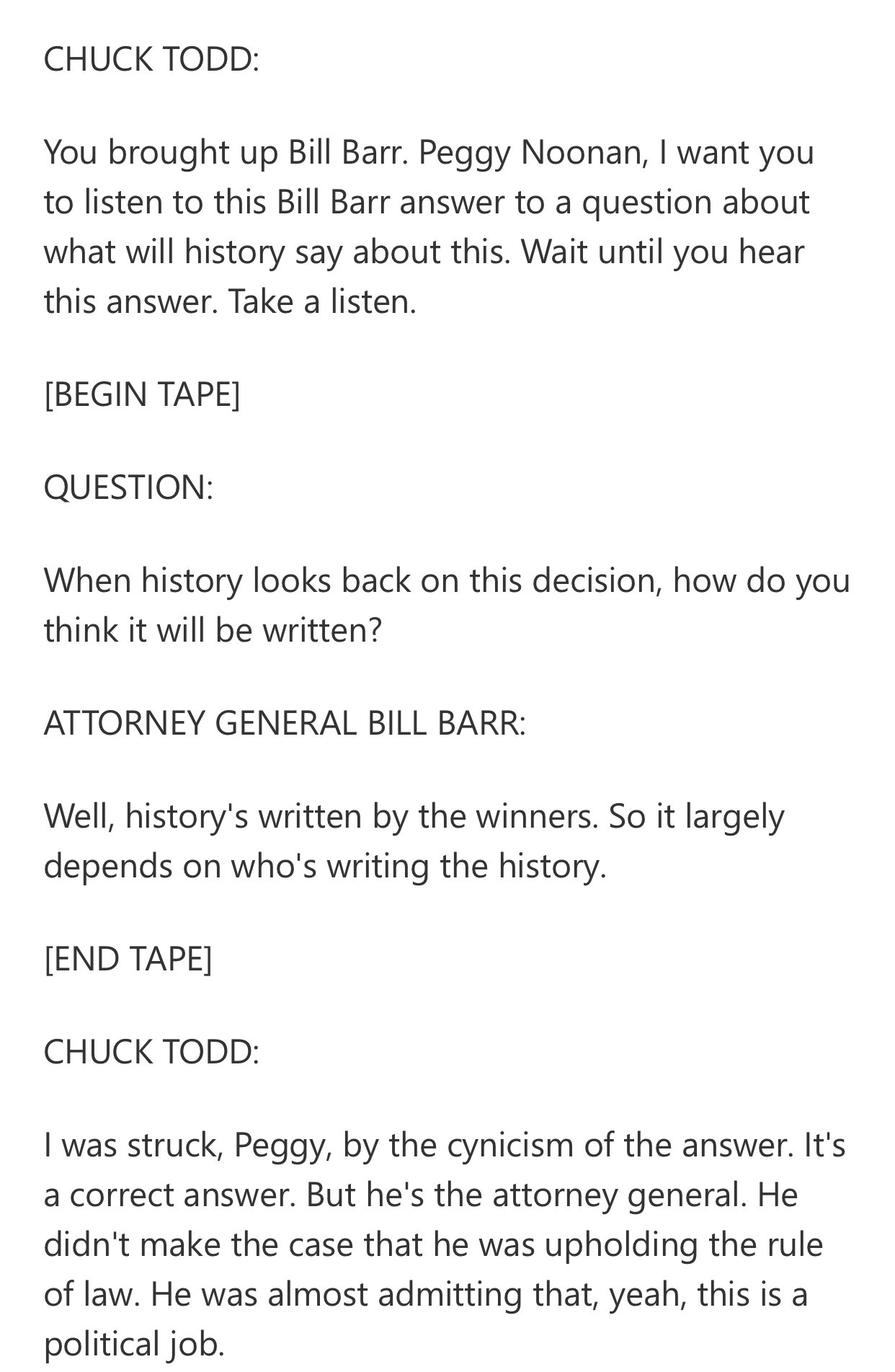 What really was said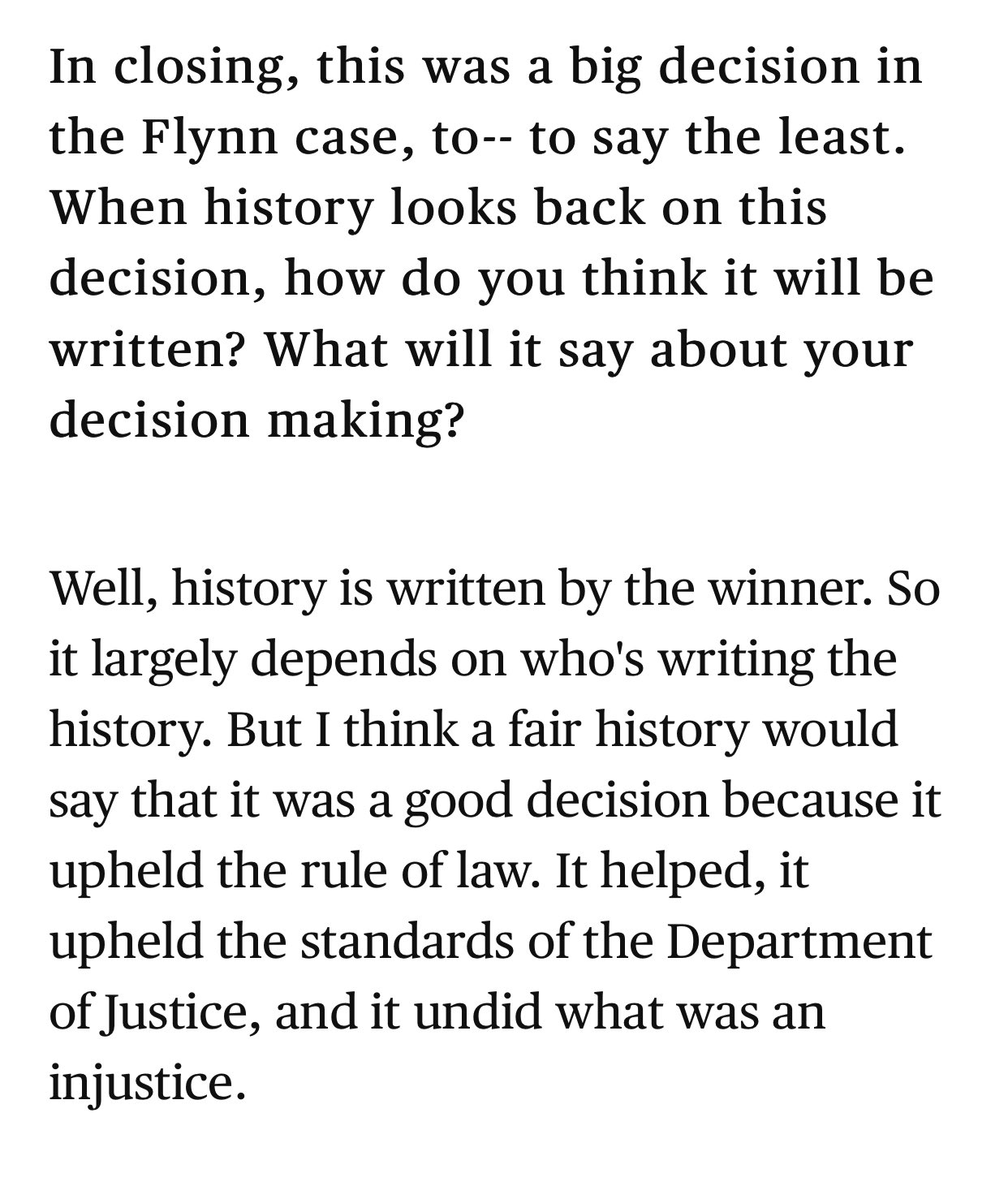 Greg Price put the videos together to demonstrate how slimy Toad was.
Today on Meet The Press, @chucktodd wildly took context out of an answer AG Bill Barr gave about his decision to drop the case into Gen. Michael Flynn.

I cut Todd's segment along with Barr's full answer together. Look at how blatantly dishonest this is. pic.twitter.com/tODOEwL48V

— Greg Price (@greg_price11) May 10, 2020
Chuck Todd is and always will be a democrat flack water boy. Later in the day MTP issued an "apology."
You're correct. Earlier today, we inadvertently and inaccurately cut short a video clip of an interview with AG Barr before offering commentary and analysis. The remaining clip included important remarks from the attorney general that we missed, and we regret the error.

— Meet the Press (@MeetThePress) May 10, 2020
Inadvertently my ass. The damage has been done and it is highly unlikely Toad and MTP will retract it on air.
Then last night it was 60 Minutes' turn to lie.
As the U.S. took the lead for illness and death from coronavirus, the White House moved the focus to the Chinese government. Last Sunday, Secretary of State Mike Pompeo attempted to resurrect a debunked theory that the virus was man-made in China. https://t.co/MZbfe4LeXi pic.twitter.com/bIjTRfboTg

— 60 Minutes (@60Minutes) May 10, 2020
Scott Pelley has become pillar of deception all by himself. 60 Minutes ran to the defense of China. Pelley attacked Matt Gaetz:
Pelley deceptively made it appear as though Rep. Matt Gaetz's (R-FL) remarks on Fox News' "Tucker Carlson Tonight" were the genesis of the claim.

The claim originated in a report from The Daily Mail on April 11, a fact that Pelley did not tell viewers. The claim was also not completely false, as some of the money was found to be going to the Wuhan lab.
Pelley poured it on
Pelley goes on to praise the Wuhan Institute of Virology, saying that it was "internationally respected" and that State Department cables sent to Washington, D.C., in 2018 said that the lab was "critical to future… outbreak prediction and prevention." Pelley downplayed the warning contained in the cables as the State Department was "concerned" about a lab not having enough trained researchers.
Pelley then went on to spit out a deceptive list
Again, Pelley's claims here are misleading. The U.S. has conducted more coronavirus testing than any other country, China hoarded medical supplies, the U.S. used the Defense Production Act to ramp up needed equipment, and White House Coronavirus Task Force member Dr. Anthony Fauci has said that President Donald Trump has listened to all their scientific recommendations and put them into action.
Pelley then appeared to defend even China's lies:
Next, Pelley promoted Chinese communist propaganda by claiming that the U.S. has "led the world in illness and death." First, the U.S. has the most confirmed cases because it has done by far the most testing and because it is honestly reporting the cases. China on the other hand has lied about the outbreak in its country. Estimates from U.S. officials, foreign governments, and top think tanks all say that China has the most coroanvirus cases and deaths of any country in the world.
My favorite was this
"Last Sunday, Secretary of State Mike Pomepo attempted to resurrect a debunked theory that the virus was man-made in China."
What Pompeo actually said was
"I can tell you that there is a significant amount of evidence that this came from that laboratory in Wuhan,"
60 Minutes then tried to dispel that assertion but they simply cannot- China has destroyed the evidence- something 60 Minutes deceptively left out.
The Federalist's Ben Domenech minced no words:
Federalist co-founder Ben Domenech ripped Pelley and CBS News on Twitter, writing, "Because a lot of [CBS News] and [60 Minutes] personnel follow me, every single one of you is a tool of the Red Chinese for saying this unless you openly reject this falsehood. This is simply a lie. CBS should apologize and retract."
Pelley is a jerk, but so is pretty much all of the left wing media. Rather than get too upset by all this left wing calumny, sit back and enjoy it. It is the beginning of the end for their fantasies.
#OBAMAGATE