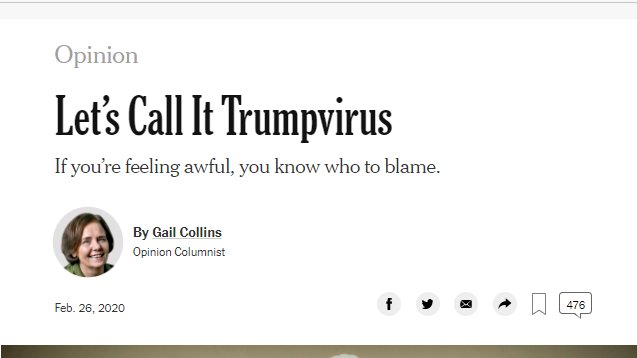 As Rahm Emanuel would say "Don't let a good pandemic go to waste."
We live in interesting times.
democrats are literally hoping that the Corona outbreak becomes widespread and causes loss of life in the US.
Catch this from CNN:
But misspelling the name of the virus is the least of the government's problems. President Trump has systematically undermined trust in the media and other institutions that play important roles in public health emergencies. He has explicitly said not to trust sources that he doesn't personally approve.

He has engaged in what several columnists have called a "war on expertise." Scientists have been among those adversely affected. Last December an investigation by The New York Times concluded that science is "under attack" by Trump appointees.

"Trump's disdain for science and his cuts to science and public health programs have subverted preparedness for emergencies like the coronavirus," said Michiko Kakutani, the famous literary critic and author of "The Death of Truth."
And from George (Brian Stelter) Costanza:
Since the dawn of the Trump era, countless experts have warned that the president's lack of credibility would imperil the country in the event of an emergency.

As the coronavirus outbreak worsens, those fears may be coming true… https://t.co/vFo8MJZV7i

— Brian Stelter (@brianstelter) February 26, 2020
Don Lemon: Pence Will Pray, 'Allow People to Die' Rather Than 'Look at Science' on Virus
Buzzfeed went off the rails bigly:
Trump at the press conference said he agreed with claims that Rush Limbaugh (upon whom he bestowed the Presidential Medal of Freedom at the State of the Union speech) made during his radio show this week, that the deep state had created the coronavirus as a political weapon to "to bring down Trump."
Trump never said that and Limbaugh never said that.
Tom Steyer called Trump "incompetent"  and this is Trump's Katrina. Recall that Mr. Green Steyer made his billions in coal and gas.
Pelosi says it's too late:
House Speaker Nancy Pelosi (D-CA) on Wednesday accused the Trump administration of responding "too late" to halt the possible spread of China's deadly coronavirus in the United States.

"This is shameful," Pelosi told reporters on Capitol Hill when asked about the administration sending a $2.5 billion supplemental budget request to combat the illness. "He puts forth a proposal now that is meager, anemic in terms of addressing this. Ebola, we did $5 billion. And now they're trying to take the Ebola money and spend it here."

"What he's doing is late, too late, anemic," she added. "Hopefully, we can make up for the loss of time but we have to have professionals in place, resources that are adequate and not use scare tactics about people coming back to our country."
'This great genius has told us that this coronavirus is going to end in two months. April is the magical day that this great scientist we have in the White House has determined. I wish I was kidding. That is what he said.'
Schumer: "Towering incompetence"
Bear in mind that these are same a**holes who want open borders and support the free inflow of illegals who already have re-introduced diseases that this country had pretty much eradicated.
Trump not prepared? Beg to differ. This is from January 29.
Today, President Donald J. Trump announced the formation of the President's Coronavirus Task Force. Members of the Task Force have been meeting on a daily basis since Monday. At today's meeting, which the President chaired, he charged the Task Force with leading the United States Government response to the novel 2019 coronavirus and with keeping him apprised of developments.

The Task Force is led by Secretary of Health and Human Services Alex Azar, and is coordinated through the National Security Council. It is composed of subject matter experts from the White House and several United States Government agencies, and it includes some of the Nation's foremost experts on infectious diseases.

The Task Force will lead the Administration's efforts to monitor, contain, and mitigate the spread of the virus, while ensuring that the American people have the most accurate and up-to-date health and travel information.
And the members? An epidemiological Who's Who:
Secretary Alex Azar, Department of Health and Human Services

Robert O'Brien, Assistant to the President for National Security Affairs

Dr. Robert Redfield, Director of the Centers for Disease Control and Prevention

Dr. Anthony Fauci, Director of the National Institute of Allergy and Infectious Diseases at the National Institutes of Health

Deputy Secretary Stephen Biegun, Department of State

Ken Cuccinelli, Acting Deputy Secretary, Department of Homeland Security

Joel Szabat, Acting Under Secretary for Policy, Department of Transportation

Matthew Pottinger, Assistant to the President and Deputy National Security Advisor
Trump took action nearly a month ago:
Starting Sunday, U.S. citizens who have traveled to China in the last 14 days will be flown to one of eight U.S. airports for extra screening. U.S. citizens who have been in Hubei province, where the outbreak began, will undergo a mandatory 14-day quarantine. Experts say the incubation period for the coronavirus is 14 days.

Most non-U.S. Citizens who have traveled to China within the last two weeks will not be allowed to enter the U.S., except for immediate family members of U.S. citizens, permanent residents and flight crews.
This is proper handling. If you listen to democrats, they all whining about the money, as if simply throwing money at a problem solves it.
It doesn't.
From not a single democrat have I heard a plan of action. Not one.
democrats' behavior is just atrocious. As Trump said, this is a time when everyone ought to be on the same side but democrats are hell bent on using this as a political weapon.
Imagine what these dems would have said and done had Trump been President on 9-11 or during Pearl Harbor. They would have cheered for the enemy as long as it would bring harm to Trump, just as they are doing now.
Think how disappointed they will be if thousands of American don't perish.
UPDATE
A reminder of Schumer insulting Trump for taking early action to limit the spread of Corona
According to Schumer, Trump was wrong to act promptly and then was wrong not to act fast enough.
Schumer is an a**hole.
UPDATE
The giddy reaction already be displayed down here to Ted Cruz announcing his self-quarantine for Coronavirus is as despicable as it is depressing. It seems more people are interested in rooting against the so-called other side than anything else. Just horrible.

— Joe Concha (@JoeConchaTV) March 8, 2020