When the dam bursts, a lot of water is released. The Roger Stone dam has burst and we have a flood of new information that should absolutely result in a mistrial.
Desperate to find something to hang Trump and justify its existence, the Mueller team had been investigating Roger Stone for some time. Mueller's crew fabricated all sorts of charges but then limited them to something that sounded vaguely justifiable. With that in hand, on January 25, 2019 Mueller had the FBI conduct a pre-dawn raid to apprehend the dangerous 67 year old in ill health and no criminal record and with a deaf wife, automatic weapons at the ready to shoot and yell "tango down!" should Stone have suddenly reached for a nitroglycerin tab or some Imodium.
Imagine his wife not being able to hear any of this and disobeying a command to hit the floor hands behind her.
Boom
CNN was given prior notice of the raid and had its cameras rolling as the Bin Ladenesque operation unfolded.
Makes you proud of the FBI.
The dam has burst on the Roger Stone jury and it's inundating everything. Turns out the foreperson in the jury has ax to grind.
A HUGE ax. To make this easily digestible I'll post the highlights
From the Daily Mail
Tomeka Hart revealed on Wednesday that she was foreperson on Stone jury 
Hart unsuccessfully ran for Congress in Tennessee as a Democrat in 2012 
She is also a former Memphis City Schools Board President 
Her social media shows a long history of anti-Trump comments
She called Trump supporters racists and tweeted about Stone case before trial 
From Chuck Ross at the Daily Caller
The foreperson on Roger Stone's jury ran for Congress as a Democrat in 2012, it was revealed Wednesday. 
Tomeka Hart revealed her role on the jury in a Facebook post defending four prosecutors who quit the Stone case in protest over a revision to the Trump confidante's recommended prison sentence. 
Hart's social media activity shows she closely followed the special counsel's Russia investigation, and frequently posted negative stories about President Donald Trump.
There is a terrific thread reader here from Shem Horne  on Twitter. A couple of samples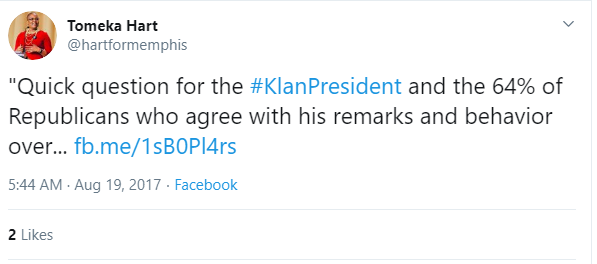 She was also tweeting about Roger Stone's arrest: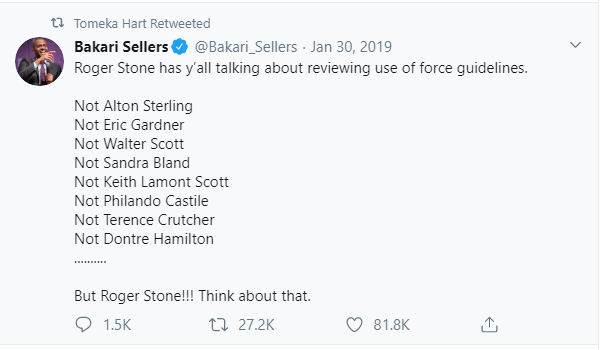 Trump began tweeting about this miscarriage of justice back in November, but it appears that an early Tuesday tweet from Trump that prompted Hart to open her mouth.
But such expectations were challenged by a 1:48 a.m. Tuesday tweet from Donald Trump, who suggested his eccentric ally has been mistreated by the criminal justice system. "This is a horrible and very unfair situation," the president wrote. "The real crimes were on the other side, as nothing happens to them. Cannot allow this miscarriage of justice!"
Hart went to Facebook to vent her feelings
'I have kept my silence for months. Initially, it was for my safety. Then, I decided to remain silent out of fear of politicizing the matter,' Hart said in her Facebook post on Wednesday.

'But I can't keep quiet any longer. I want to stand up for Aaron Zelinsky, Adam Jed, Michael Marando, and Jonathan Kravis – the prosecutors on the Roger Stone trial,' Hart wrote, referring to the prosecutors who resigned in protest.

'It pains me to see the DOJ now interfere with the hard work of the prosecutors. They acted with the utmost intelligence, integrity, and respect for our system of justice. For that, I wanted to speak up for them and ask you to join me in thanking them for their service,' she said.
She outed herself. Thing is, she has been posting out anti-Trump and anti-Stone tweets almost non-stop since 2017, which makes one wonder how she got by this:
https://twitter.com/drawandstrike/status/1227967985396088833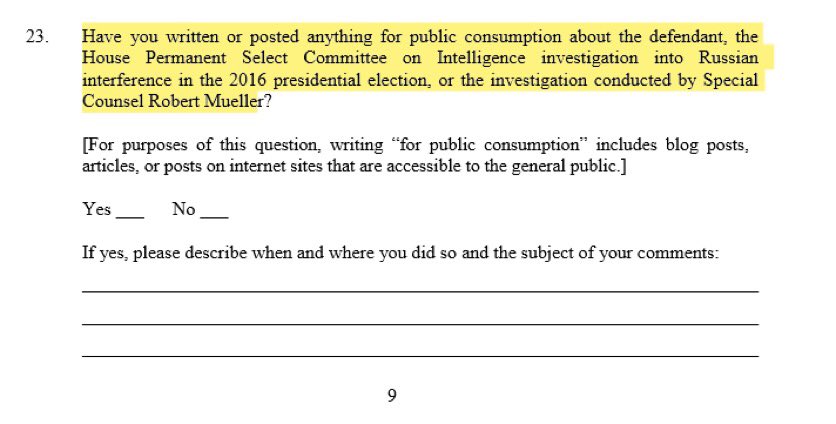 As noted, this should immediately have disqualified her for the jury. One reason it might have gone unchallenged is Judge Amy Berman Jackson.
You have to hand it to Donald Trump. Trump had the press falling all over itself when he started Tweeting about Mike Bloomberg, fact checking the box theory for days. I think Trump smoked her out by tweeting about the trial and provoking her.
democrats are all hot and bothered about Barr reducing sentence for Stone, which was obscene. They are already ginning this up as grounds for a new impeachment.
They're going to have wait until the new trial, when we find out that Stone was set up. Stone was found guilty of process crimes stemming from a hoax- and Mueller knew it was a hoax the day after he took on the case.