Seven year old Jazmine Barnes was shot to death on December 30 while riding in a car with her family.
According to the New York Times, the gunman has been described as a bearded white man in his 40s, who was wearing a red, hooded sweatshirt and driving a red pickup truck at the time of the incident. Police told the Times that they're still establishing a motive, and have not ruled out the possibility of a racially motivated hate crime.
This was a terrible tragedy, but it was gong to get even worse.
This was the sketch of the suspect: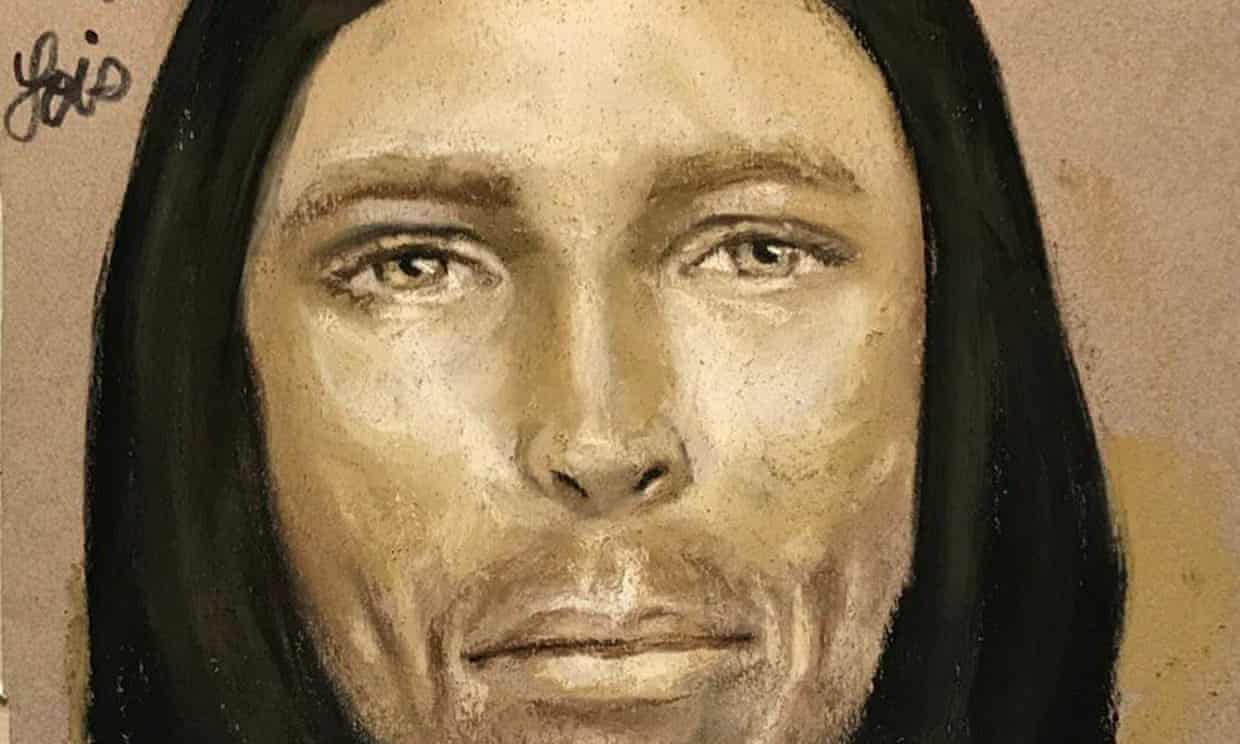 The recriminations came fast and furious
"There exists no rationale for the attack other than hate," said civil rights attorney S Lee Merritt in a tweet. Merritt's office confirmed he is representing the slain girl's father, Christopher Cevilla. Merritt has also, along with well-known civil rights activist and writer Shaun King, raised the substantial cash reward for information leading to the man's capture.

….

Still, Houston-area activist Deric Muhammad can't help but draw a direct line and wonders if Williams's shooting were solved, "would Jazmine Barnes still be alive?"

"What are the odds that two black families were fired upon by a white male in a pickup truck within a one-year time span on the same block? We've got to call it what it is. Black people are being targeted in this country," Muhammad told the Houston Chronicle.
Jazmine Barnes was murdered on Dec. 30 in Harris County, Texas. She was in the car with her mom and her sisters when a man described as white, bearded, and in his 40s began firing at them. She was only 7 years old. As of now, her killer is still at large. pic.twitter.com/xMGscs3a7L

— Jamil Smith جميل كريم (@JamilSmith) January 2, 2019
The case has attracted national attention. The civil rights lawyer S Lee Merritt, who is representing the Barnes family, and the activist and writer Shaun King have raised a $100,000 reward for information leading to the suspect's capture. As of Saturday afternoon a GoFundMe page had raised more than $67,000 for the family.

"A white male who was a complete stranger to them decides to target their family," Merritt said at a news conference on Thursday. "We do believe that it was racially motivated in part because our nation at this moment is a highly racially charged society. We've seen a rise in hate crimes [according to FBI data] … this particular area of Houston is known for a racial element."
The mother of #JazmineBarnes, her 7 yr old daughter who was shot & killed by a white supremacist. The murderer pulled up in a red truck & opened fire into their car on Dec 30 in Houston. He's still at large.

This is America for Black people.#SayHerNamepic.twitter.com/STrQ1X077T

— Bishop Talbert Swan (@TalbertSwan) January 2, 2019
https://twitter.com/MarcelMcClinton/status/1080203778375249921
https://twitter.com/TalbertSwan/status/1080115914232791040
Don't tell us RUSSIA is inflaming racial tensions when AMERICAN white supremacists are murdering 7 yr-old Black girls, kicking & assaulting 1 yr-old Black boys and pulling knives on Black people over parking spaces.

That's homegrown American racism.#VanillaISIS#JazmineBarnes

— Bishop Talbert Swan (@TalbertSwan) January 2, 2019
It kept getting worse
For days authorities have said they were hunting for a white man in a red pickup truck, based on a description given to investigators by Jazmine's 15-year-old sister, Alxis Dilbert, who was riding in the front passenger seat of her mother's car when the shooting erupted.

Alxis said during a news conference on Thursday that a red truck pulled up alongside the passenger side of her family's car before switching lanes to the driver's side of the vehicle just before gunfire erupted. Alxis and her two other sisters in the car were not injured in the incident.

Alxis said she briefly saw the occupant of the truck and described him as white with blue eyes and wearing a black hoodie.

"It was like a look into his car. You know like you're driving and you just look into somebody's car and make eye contact and look back," Alxis said of seeing the gunman.
Liberal virtue signalling went to DefCon 1
But then suddenly the investigation took "a new direction."
A Man Has Been Arrested And Charged With The Fatal Shooting Of 7-Year-Old Jazmine Barnes
A suspect was arrested and charged Saturday with capital murder over the fatal shooting of seven-year-old Jazmine Barnes, who was killed as she was riding in a car with her family in what police described as an unprovoked attack in Houston a week ago.

Sheriff's officials named the suspect as Eric Black Jr., and said that he was taken into custody after he was identified by a tip. Black admitted to being involved in the shooting, authorities said, and investigators are continuing to look into evidence that could lead to other suspects being charged in the case.
The top picture is of Eric Black Jr- the 40 year old blue eyed bearded white man.
Guess how much interest remains in this story.