I have officially had enough of this sh*t.  Deport the bastards. All of them.
It's one thing to disagree with candidates. It's another to protest. Rioting is over the top.  Hurting people is beyond the pale.
Police clashed with hundreds of protesters outside Donald Trump's rally in Southern California on Thursday night.

At least one police car was smashed up as hundreds of demonstrators – many of them waving Mexican flags – took to the streets outside the Pacific Amphitheater in Costa Mesa, Orange County where Trump was speaking.

The protesters flooded the street outside the amphitheater with some stomping on cars, hurling rocks at motorists and forcefully declaring their opposition to Trump – bringing traffic to a halt and creating a tense standoff with authorities.

One Trump supporter was pictured with a bloody face after clashing with the anti-Trump activists, many of whom appeared to be young Hispanic people.

The violence in Southern California where Latinos make up a large segment of the population suggests Trump may face more of this in the days to come, as he campaigns ahead of the state's June 7 primary. Trump currently leads Kasich and Cruz in the California polls, with an estimated 45.7 per cent of voters, according to Real Clear Politics.
The goddam mainstream media is downplaying the violence, dismissing it as "protests."
Just imagine for a moment the shrieking outrage if Trump supporters had tried to flip a car outside a Hillary Clinton rally. Imagine the fury at the sight of a bloody man wearing a Hillary shirt. So how did the mainstream media cover the anti-Trump riot? Hot Air's Larry O'Connor has the details:

Check out the LA Times headline: Protests rage outside Trump rally in Orange County; 17 arrested, police car smashed. Maybe it's me, but if your headline includes the phrase: "police car smashed," perhaps you should go ahead and call it a riot and not the benign and righteous sounding "protest." The Times write-up of the ugly violence begins with more apologetic language: "Hundreds of demonstrators filled the street outside the Orange County amphitheater where Donald Trump held a rally Thursday night…" "Demonstrators"??? This is a very deliberate use of language. When you have a righteous cause, you're a "demonstrator." The Times is using language equating these thugs with someone marching in Selma. "Demonstrators" sounds heroic.

The Washington Post used the morally-neutral term "clashed." Trump protesters clashed with police officers here after a campaign rally Thursday hosted by the Republican presidential candidate.
This is not a damn "protest." It's a riot:
[youtube]https://www.youtube.com/watch?v=cdpmJsPhJck[/youtube]
Trump supporters are being injured:
As if that's not enough, these dirtbags are making clear where their loyalties lie:
images courtesy of the LA Times and the Daily Mail
These events are going to make campaign fodder for Trump. They validate everything he says. How dare these illegal alien nematodes attempt to deny Trump and other their right to free speech? What the freaking hell is wrong with the left? How would it be received and reported were attendees to a Hillary rally attacked and injured? How would it be reported if Hillary was rushed and denied entry to a campaign event?
And those flags? They're going to suck up the benefits and privileges offered by this country and then shove this in our faces?
I don't think so. ¡Fuera de mi país!
Trump is a jerk, but damn it, this makes clear he's right. This garbage is going to make Trump the next President. It's not the left being denied their rights. It's not Hillary being jeopardized. The left is behind all of the violence, illegal and legal. If they think violence and intimidation is going to succeed, they're yugely mistaken.
It has to stop. Trump is the guy to do it.
Felicitanos, culos. You've made another Trump convert.
UPDATE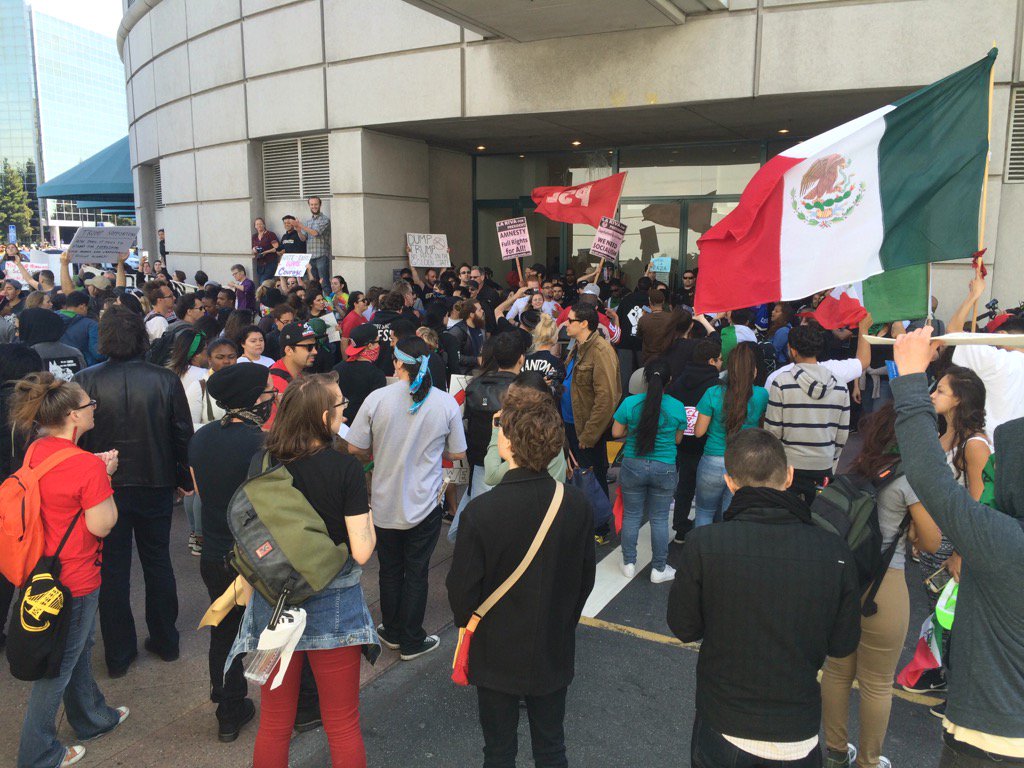 Get. Out.
UPDATE II
https://twitter.com/_R1ghtW1ng9O2IO/status/726152925534248960?ref_src=twsrc%5Etfw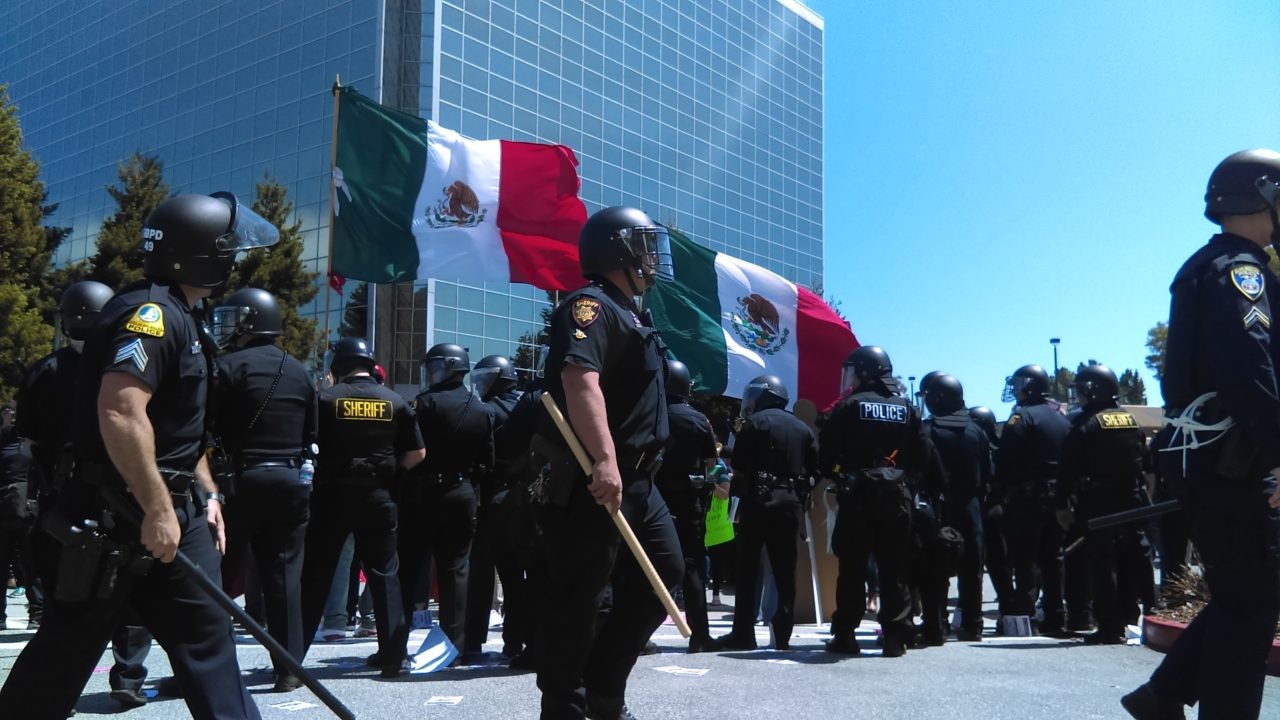 via Breitbart
And hey, let's watch those peaceful anti-Trumpers rough up a supporter