Joe Biden is a creep. A freaking pervert.
Vice President Joe Biden has been known to get a little "too close for comfort" in the past, and his behavior at the swearing-in ceremony for new Defense Secretary Ash Carter got the political rumor mill swirling again on Tuesday.

The vice president appeared to be whispering sweet nothings into the ear of Carter's wife, Stephanie, while the new top dog at the Pentagon addressed the challenges he'll face in his new role. Sharing a kind word of wisdom or encouragement? Probably, if the look on her face is any indication. But it's one of a string of encounters that have some asking questions about whether he's charming or creepy.
Creepy. Definitely creepy.
It's one thing to put your hands on the shoulders of someone you know well and for a long time- someone who knows you and is comfortable with you. It's quite another to repeatedly assault strangers. It was bad enough that Biden had his hands on Ashton Carter's wife Stephanie. Maintaining his grip on her so she could not escape, he leaned over and stuck his face into her hair to whisper something.
Biden has a history of being a perverted creep. Here he is assaulting a White House reporter:
Here he's at it again:
Here he is with the 13 year old daughter of Sen. Chris Coons:
Not content to grope her, Biden planted one on her cheek(via memeguy.com):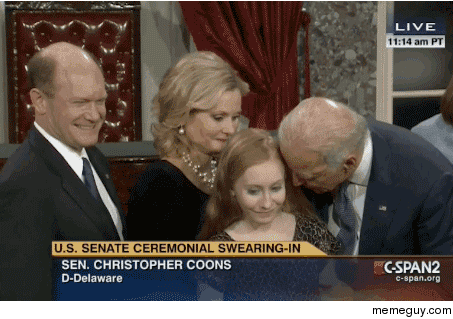 It's pretty obvious she was wasn't enjoying the advance. And neither was Stephanie Carter. Biden could have waited for the ceremony to end before having to deliver his bag of verbal wisdom into her ear. If something really needed to be said, one leans over and politely whispers without groping.
No seventy something man kisses an unrelated 13 year old girl. That's weird.
Biden's exchange with the 13-year-old daughter of Sen. Chris Coons earlier this year might take the cake as most cringeworthy, but her father insisted otherwise.

"Does she think the vice president is creepy?," Fox News anchor Chris Wallace asked during an appearance shortly after the encounter.

"No, Chris she doesn't think the vice president is creepy," Sen. Coons said.
The look on her face says otherwise as did the look as Stephanie Carter's face. Carter and his wife were good natured about it but make no mistake.
Biden is a pervert.
The exit question: what Republican could get away with being this kind of creep?