By now everyone has heard of the 8.9 magnitude earthquake off the coast of northern Japan, the devasting tsunami that hit there, and is now traveling to the US west coast. Since this is a constantly moving story, it seems prudent to make this an Open Thread of update news contributions by our ever astute FA readers. We would all appreciate your adds as development occur. For quick heads up, CNN has a live update blog, dedicated to breaking tweet type news.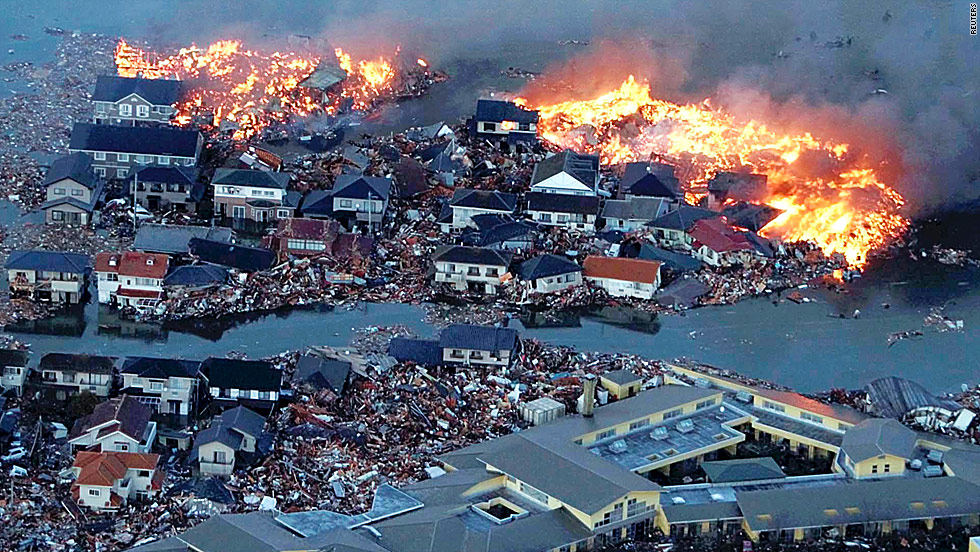 Some of CNN's photo gallery. See more here.
The one story I am watching is one of Japan's four nuclear power plants that was having shut down problems, and prevented water cooling of the reactors. This is the Fukushima No. 1 nuclear plant turbine building in Onahoma city, about 170 miles north of Tokyo. at 9:09AM Pacific time, a report had noted the area was evacuated, but Japan's Chief Cabinet Secretary Yukio Edano, said there was no radiation leak. Simultaneously, according to the CNN blog update I linked above, Kyodo News reported that radiation levels were on the rise. Japan has declared a State of Emergency.. not only because of the earthquake, but for this plant specifically… evacuating 2800 affected people. It is a story to be watched, and a very undesirable element to be added to an already heartbreaking event.
Well, fellow news hounds… you're all up now…
UPDATE: 6:38PM PAC Time: News reports from various radio/TV sources actually indicate there are 15 or more Japanese nuke facilities, of which eight are in "emergency declared" status by Japan. Now latest Japan Today update states that there are two of these that are set to release pressure. The second plant is adjacent to the first.
Given the adjacent No. 2 plant also has quake-triggered malfunctions, the operator of the two plants in Fukushima Prefecture is set to release pressure in containers housing reactors under an unprecedented government order aimed to ensure the plant's safety, an action that could lead to the release of radioactive substances.
Mark Levin had a nuke experienced caller who was wondering about the status of "containment" facilities for these… More if I find it in updates. Or feel free to add it below, and I'll insert it here when I see it. Group effort for info, yes?
UPDATE: 5:04pm, PAC Time: Latest Japan Times update says evacuation area expanded.
Radioactive substances could already have leaked at the Fukushima No. 1 nuclear power plant after a magnitude 8.8 earthquake hit northern Japan, the operator Tokyo Electric Power Co. said Saturday.

The amount of radiation reached around 1,000 times the normal level in the control room of the No. 1 reactor of the plant, the Nuclear and Industrial Safety Agency also said. The discovery suggests radioactive steam could spread around the facility.

The agency also said radiation has been more than eight times the normal level at a monitoring post near the main gate of the plant.

The authorities expanded the evacuation area for residents in the vicinity of the plant from a 3-kilometer radius to 10 km on the orders of Prime Minister Naoto Kan, who plans to visit the facility later Saturday.
UPDATE: 12:50pm, PAC Time: According to Japan Today, the power plant with the cooling problem for the reactors is getting ready to open the valves to release the rising pressure, which could emit radioactive steam into the air.
Kaieda also said at a predawn press conference that the level of any radiation released from Tokyo Electric Power Co.'s Fukushima No. 1 plant, which was hit by a powerful earthquake Friday, will be very low and the safety of nearby residents has been ensured.
Vietnam era Navy wife, indy/conservative, and an official California escapee now residing as a red speck in the sea of Oregon blue.