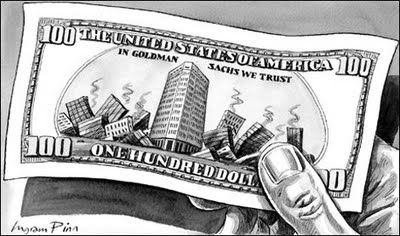 At The Beast "Murphy" posted the transcript of the juvenile punking of Governor Scott Walker and closed with this:
So there you have it, kids. Government isn't for the people. It's for the people with money. You want to be heard? Too fucking bad. You want to collectively bargain? You can't afford a seat at the table. You may have built that table. But it's not yours. It belongs to the Kochs and the oligarch class. It's guarded by Republicans like Walker, and his Democratic counterparts across that ever-narrowing aisle that is corporate rule, so that the ever-widening gap between the haves and the have-nots can swallow all the power in the world. These are known knowns, and now we just know them a little more.
"These are known knowns."
Curiously, Walker said nothing that he hadn't said in public already. This is a great article on Walker.
Now, about being Koch's whore.
At Powerline John Hinderaker skewers NY Times reporter Eric Lipton for a shoddy piece of reporting on the Koch brothers and their connection to Scott Walker. Somehow, Scott Walker in Wisconsin is doing the bidding of the Koch brothers who live in Wichita.
The Times is well known for its selective concern about money in politics. In the Times's view, billionaires are more than welcome, as long as they contribute–as most of them do–to Democrats. Lipton tries to suggest that the Koch brothers are uniquely influential contributors.
~~~~

What's more, of the top 20 donors, 12–more than half–are unions. Isn't there an untold story here? Aren't the Koch brothers lonely rebels who are trying to offset the monolithic power and unparalleled financial muscle of the unions, especially the public employee unions? Isn't that what the Wisconsin story is really about?
Those nefarious Koch brothers have an interesting right wing agenda. They donated $20 million to the ACLU in order to try to fight George Bush's Patriot Act. The Koch brothers support drug legalization, gay marriage, and reduced defense spending.
That reads like something straight of the Tea Party manifesto, doesn't it?
Let's take this "Koch Whore" analogy a little further.
Hinderaker notes that the Koch PAC contributed $43,000 to Walker's campaign, and Walker raised more than $11 million in total. Now let's take a look at who gave Barack Obama big money.
Goldman Sachs $994,795
I can't help but wonder- if Scott Walker is a Koch whore for a paltry $43,000, does a million dollars make Barack Obama Goldman's slave?
Note:
Goldman Sachs was a recipient of bailout funds, estimated to be between 3 billion and $13 billion. Then-Senator Barack Obama urged passage of the bailout bill during the time Goldman was handing Obama a million bucks.
While the rest of are suffering through a poor economy, how is Goldman Sachs doing?
NEW YORK — Goldman Sachs reported blockbuster earnings of $13.39 billion for 2009 and said on Thursday that it kept compensation below the levels of its pre-crisis heydays.
Bonus Watch 2010: Goldman Sachs Pays Huge Bonuses And Gives Junior Bankers A 50% Salary Raise
Goldman Sachs bankers to receive $15.3bn in pay and bonuses
Goldman Sachs has set aside $15.3bn to pay its staff in 2010 – an average of $430,000 each – in a move that re-ignited the controversy over City pay and bonuses.
Their investment has paid off handsomely.
"The whole point of the bailout is to save Goldman Sachs," said Christopher Whalen, head of financial advisory services for Institutional Risk Analytics. "The whole thing is so rancid and so hideous."
How are you doing?