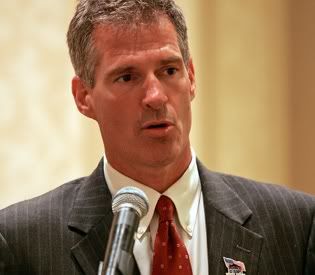 There have been a couple of posts here at FA regarding US Senate Candidate Scott Brown…..
The race is narrowing toward it's final conclusion on Tuesday.
Today, the Boston Herald endorsed Brown.
Also today, Scott Brown's campaign is conducting a "Money Bomb".
What's that you ask?
Well, they set their goal at $500,000 for the day. When they surpassed that, they moved it to $750,000. When they surpassed that, yes they did, the new goal was set at $1,000,000.
As of the time of this post, the Scott Brown for US Senate campaign had raised
$930,130.16
As of 9:47pm EST…
$1,012,059.94
This is an incredible showing for the Republican candidate who is running to fill spot that Ted "the Swimmer" Kennedy formerly held.
Click here for updates and you can donate there too if you like.
UPDATE:
It appears that the server is overloaded.
You can go here or here to donate as well.
UPDATE x 2:
A juicy snippet from tonight's debate.
Roll the tape: