My thanks to Old Trooper for these first four poignant photos… and I'd like to share not only those he sent, but also other photos and links to those dedicated to honoring our fallen warriors. This should never be confined to one day or weekend, conveniently fitting in between family BBQs, grill outs or picnics and a four day work week.
*Every* day is "memorial" day to me…
Please feel free to share – add more links to websites and causes dedicated to our fallen in the comments below.
As for me? To those that have paid the ultimate price, and to their families left behind, I can never repay you for your bravery, strength and dedication to securing my freedoms. I can only offer my eternal thanks, and respect…
And, as "Private Ryan" noted at the end of the epic film… I hope I am worthy.
PHOTOS BELOW ARE FROM The WWII MEMORIAL WEBSITE
The World War II Memorial as viewed from the Washington Momument
First two below photos by Richard Latoff
The Field of Stars
THE NATIONAL VIETNAM VETERANS MEMORIAL (AKA "The Wall")
from The Vietnam Veterans Memorial Fund website
Read the many moving tributes and essays on the link.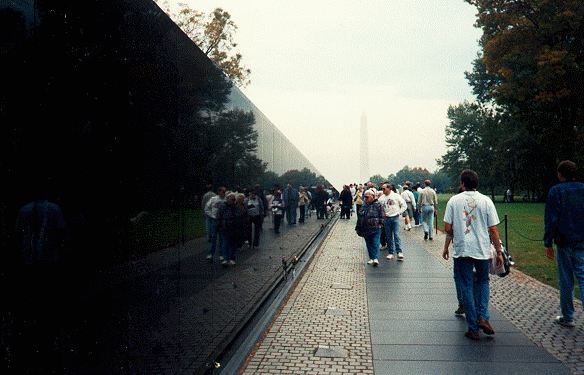 THE KOREAN WAR MEMORIAL
and more photos by Hal Barker
STEPHEN BAY'S PHOTO GALLERY OF WAR MEMORIALS
One example below… click on link above for more
Three Servicemen Statue at the Vietnam Veterans Memorial
FIRST ONLINE IRAQ (OIF) WAR MEMORIAL
Features a collection of video memories from family, friends, military colleagues, and co-workers of those that have fallen.

Watch Iraq Veterans Memorial: L-Cpl. Ryan Winslow in How to Videos | View More Free Videos Online at Veoh.com
View Screen grabs and Photographs
DESERT VETS LLC
Mata Musing: Don't know what has happened to Sgt. Scorpion and his site… many links broken, but many also still working. Still worthy of a wander thru, with links to programs such as United Through Reading® Military Program to help families thru the long separations during deployments.
We genuinely believe that one of America's greatest resources today is her citizens currently or formerly serving in defense of our ideologies and traditions. Desert Vets is a Veterans' organization dedicated to those members of our military who have served in the Middle East in pursuit of democracy and freedom for people of that area and at the same time protecting our shores by taking the fight to them.

Desert Vets was conceived and is operated by Desert Vets for Desert Vets.

The Desert Vet mission is three fold:

1. Unearth problems being experienced by Desert Vets and their families
2. Formulate a legitimate solution for those problems
3. Engage in battle to resolve the problem

In addition to our standing mission, with this website, we hope to put Desert Vets together in communication and camaraderie
Warriors often find a more unusual soldier has his or her back on the battlefield. Also honored are those committed to promoting the long history of Military Service Dogs at US War Dogs Memorial. As many of these handlers can attest, man's best friend has, at times, been his military K-9 comrade in arms.
Vietnam era Navy wife, indy/conservative, and an official California escapee now residing as a red speck in the sea of Oregon blue.