There have been a few write ups about some pro-life group possibly being allowed to march in New York's St. Patrick's Day parade, and since as of this writing (on March 16th) there have been no news blurbs as to who this group will be it appears to not be happening:
A New York-based pro-life adoption group that was denied permission to march in this year's New York City St. Patrick's Day parade claims that another group opposing abortion rights will take part – but the identity of the group is unknown.
Dr. Elizabeth Rex, a teacher of bioethics at Holy Apostles Catholic seminary in Connecticut and president of the Children First Foundation in New York, told the Irish Voice that her organization applied to march in the parade after it was revealed last September that a gay group will take part for the first time, with the blessing of this year's parade grand marshal, Cardinal Timothy Dolan.

Rex said her group was denied a place in the line of march and received the decision only after sending a lawyer's letter to the parade committee.

"I find it very disturbing that a door had opened for a gay group and been slammed in the face of a right-to-life group," Rex told the Irish Voice.
I'm against this approach, as I think that it's an overall mistake to continue to fight a defensive war against the Social justice Warriors. Thankfully we're seeing pushback against the insanity that has ministers being threatened with jail time for not performing gay marriages or cities issuing subpoenas demanding that pastors be forced to turn over their sermons to city officials.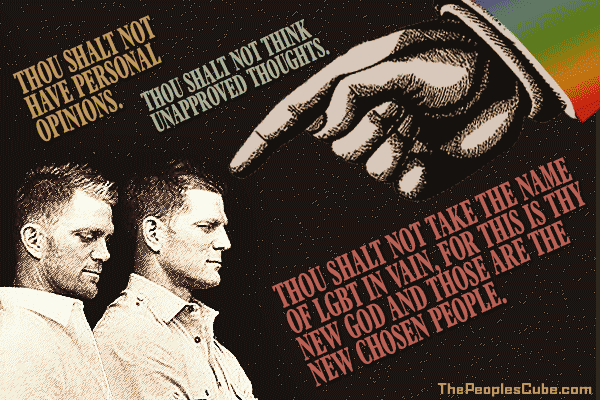 Image appears via The People's Cube
As I wrote two years ago about firing back at left wing fascists on college campuses, we should be taking the fight to their ground. Instead of petitioning to march in the St. Patrick's Day parade, pro-life groups should be looking to show their community spirit by marching in the next local gay pride parade! For good measure, we could also organize local Tea Party groups, campus Christian groups, and maybe find a way to have Chick-Fil-A sponsor one of the groups as well. I have a feeling that if this were to happen the vaunted tolerance and respect for others' values that the lefts loves to self congratulate themselves for would probably look very different when the roles are reversed. Or who knows – maybe this could become a teachable moment for the hateful bigots of the radical left?
As The Federalist's David Harsanyi summed up so well,
These days, we should be more troubled by the persistent need to coerce and demean those who hold religious objections to gay unions into compliance. And if I were, say, a practicing Catholic, I could never accept that the sacrament of marriage could be redefined by judges, democracy, or anyone other than the Big Guy. This is neither homophobic nor does it undermine your happiness.
Cross posted from Brother Bob's Blog