We've all seen some scumbags in football. Warren Sapp is one of them. Sapp crossed the field to cold cock Chad Clifton of the Packers who was nowhere near the play:
Clifton was badly hurt and Sapp's reaction showed him to be a complete ass.
Then of course, there's Ray Rice who knows how to teach women a lesson:
And Ray Lewis, who dodged a murder charge.
And Bill Romanowski, who was always seeking to hurt someone on the field and often did:
Then we have Ndamukong Suh, who's in a class of his own. The a**hole stomped on Aaron Rodgers' arm last week:
Mike Pereira doesn't think Suh stepping on Rodgers was intentional or egregious.
If one was examining this in isolation- as a single incident- one might be tempted to agree but Suh has a glorious history of abusive behavior.
He's kicked Matt Schaub in the groin:
He slammed Jay Cutler in the back of the head with a forearm:
Here he stomps on Evan Dietrich-Smith
Here is Suh chopping John Sullivan:
https://www.youtube.com/watch?v=eME90biwYbQ
More views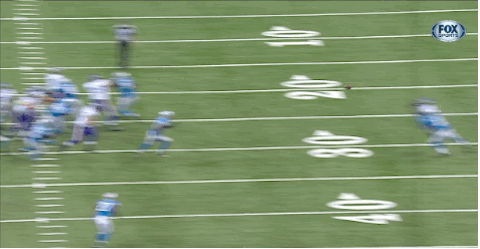 He tried to rip Jake Delhomme's head off:
Suh slammed Josh McCown in the face with a forearm (about 20 seconds in):
If you watch the Suh/Rodgers clip carefully, you'll see that Suh had already stepped on Rodgers with his right heel. Suh then steps back and plants his left foot on Rodgers' leg and puts all his weight on that foot, his right foot coming completely off the ground. Pereira's judgment in this case is inexplicably dumb. Suh was initially suspended for the playoff game but then Goodell overturned the decision and once again lets a criminal get off easy. Allowing cretins like Suh to remain in the game degrades the integrity of the National Felons League. Suh always offers explanations which could not be more dishonest.
Ndamukong Suh is an a**hole. There is no other way to put it. He is a consistently dirty player and does not belong in professional football. He should be banned from football.