Boy is it getting ugly.
As democrat candidates lose ground, they become more desperate and vicious. Wendy Davis has already derided Greg Abbott for being in a wheelchair and now she slides right into the gutter:
Texas Democratic gubernatorial candidate Wendy Davis earlier this month was pilloried in the press for her attack ad that prominently highlighted the fact that her Republican opponent Attorney General Greg Abbott uses a wheelchair. Davis took her attacks to a new level on Monday by strongly implying Abbott would support an interracial marriage ban, despite the fact that Abbott is married to a Latina. But less than three hours later, Davis again topped herself by forwarding an attack on Abbott about an unlikely issue: dildos.

In an emailed press release, Wendy Davis For Governor passed along an article from progressive magazine The Texas Observer entitled "Greg Abbott: Dildos? Against 'em. Interracial Marriage? No Comment." The piece attacks Abbott for his supposed reluctance to say whether he'd defend interracial marriage and his defense of Texas' ban on the sale of sex toys.
Meanwhile, the Kay Hagan campaign has pumped out some campaign leaflets that suggest should she lose the election Barack Obama will be lynched: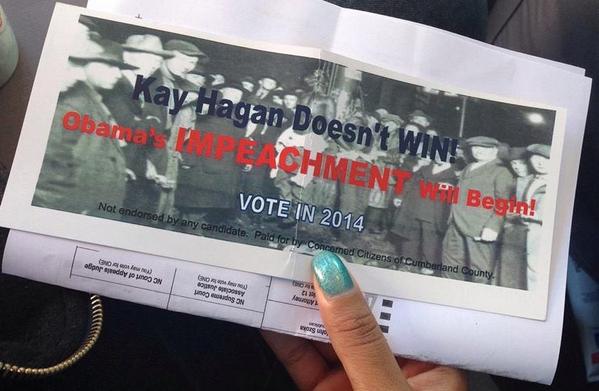 The race in North Carolina for Senate is well on its way to being the most expensive Senate race in history, expected to top $100 million by the time it's over. The contest between incumbent Democrat Kay Hagan and Republican challenger Thom Tillis is also turning incredibly ugly.

Churchgoers in Fayetteville returned to their cars Sunday to find a political flyer on their windshield — which is to be expected 16 days before an election. But this flyer was different from the normal "Vote for candidate X" or "Oppose ballot question Y" fliers people are used to. This flyer was a picture of the lynching of a black man by a white crowd with the words "Kay Hagan Doesn't WIN! Obama's IMPEACHMENT Will Begin! Vote in 2014."
Both campaigns seem to be disintegrating, but the Hagan campaign puts on the front page the contempt it has for the intelligence of black voters. Both she and Davis deserve to lose. Badly.
BTW, the mainstream media has little to no interest in any of this.
image courtesy of Twtichy