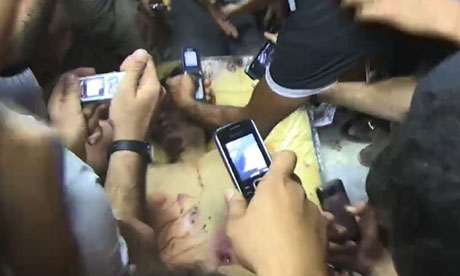 This sort of thing really warms the heart:
Muammar Gaddafi's 'trophy' body on show in Misrata meat store
Gaddafi's body is now a Libya tourist attraction:
Bloodied, wearing just a pair of khaki trousers, and dumped on a cheap mattress, Muammar Gaddafi's body has become a gruesome tourist attraction and a macabre symbol of the new Libya's problems.

Hundreds of ordinary Libyans queued up outside a refrigerated meat store in Misrata, where the dead dictator was being stored as a trophy. A guard allowed small groups into the room to celebrate next to Gaddafi's body. They posed for photos, flashing victory signs, and burst into jubilant cries of "God is great."
Gadaffi was most definitely murdered while in custody.
Wounds on Gaddafi's body appeared to confirm that he was indeed killed in cold blood in the chaotic minutes following his capture on Thursday. He was found in the town of Sirte, hiding in a drainage pipe. There was a close-range bullet wound on the left side of his head. Blood stains showed another bullet wound to his thorax.
They made a hood ornament of Gadaffi's body and drove it around town:
His body, subsequently driven to Misrata and publicly paraded, was barefoot and stripped to the waist.
The leader of the National Transitional Council is already proving to be a phony.
The NTC faces questions from international rights organisations. On Thursday, Jibril claimed that Gaddafi had been killed from a bullet to the head received in crossfire between rebel fighters and his supporters. He was dragged alive on to a truck, but died "when the car was moving", Jibril said, citing forensic reports.

Gruesome mobile phone footage obtained by the Global Post undermines this account. It records the minutes after Gaddafi's capture, when his convoy came under Nato and rebel attack. He is dragged out of a tunnel where he had been hiding. Blood is already pouring out of a wound on the left side of his head.

A group of fighters then frogmarch him towards a pick-up truck. There are shouts of "God is great" and the rattle of gunfire. At one point Gaddafi keels over; a fighter kicks him and scuffs dirt over his bloodstained clothing. The rebels prop Gaddafi back on his feet and propel him onwards.

Gaddafi is clearly dazed and wounded – but is alive, conscious, and pleading feebly with his captors. Fighters at the scene said that he was injured in the shoulder and leg when he was found. Fresh blood is also flowing from a head injury.
Obama made the argument that Gaddafi was removed because he did not respect basic human rights. This is obviously much better.
Murder, street justice, desecration of remains. The face of the new and improved Libya.