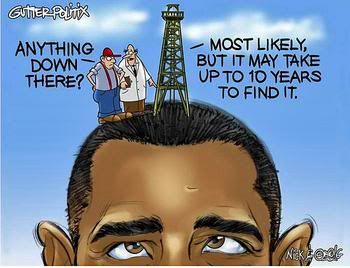 No, not this year. A democrat is President and he said he wanted high gas prices back in 2008.
Well, he got them for us.
Gas Prices Near $4 A Gallon At Some Chicago Stations
Some people were complaining of high gas prices back when a Republican was President. Like Nancy Pelosi
With skyrocketing gas prices, it is clear that the American people can no longer afford the Republican Rubber Stamp Congress and its failure to stand up to Republican big oil and gas company cronies. Americans this week are paying $2.91 a gallon on average for regular gasoline – 33 cents higher than last month, and double the price than when President Bush first came to office.

"With record gas prices, record CEO pay packages, and record oil company profits, Speaker Hastert and the Majority Congress continue to give the American people empty rhetoric rather than join Democrats who are working to lower gas prices now.
"Democrats have a common-sense plan to help bring down skyrocketing gas prices by cracking down on price gouging, rolling back the billions of dollars in taxpayer subsidies, tax breaks and royalty relief given to big oil and gas companies, and increasing production of alternative fuels."
Anyone see that plan?
Pelosi wanted an investigation into high gas prices.
Speaker Nancy Pelosi and several House Democrats sent a letter to the Chairman of the Federal Trade Commission, William E. Kovacic asking him to investigate the current record high gas prices.
And she knew who to blame for those high prices:
House Speaker Nancy Pelosi Thursday blamed the "two oil men in the White House," President Bush and Vice President Dick Cheney, and their Republican allies in Congress for gas prices exceeding $4 a gallon.

Pelosi, a California Democrat, said multiple initiatives intended to lower high energy costs have passed the Democratically controlled House only to "run into a brick wall" in the Senate because they did not receive the 60 votes needed to overcome Republican filibusters.

"The price of oil is… is attributed to two oil men in the White House and their protectors in the United States Senate," Pelosi said in an interview with CNN's Wolf Blitzer.
High gas prices got a lot of attention when George Bush was President.
Poor Diddy had to travel (uck!) commercial!
Sean "Diddy" Combs complained about the "… too high" price of gas and pleaded for free oil from his "Saudi Arabia brothers and sisters" in a YouTube video posted Wednesday. The hip-hop mogul said he is now flying on commercial airlines instead of in private jets, which Combs said had previously cost him $200,000 and up for a roundtrip between New York and Los Angeles.

"I'm actually flying commercial," Diddy said before walking onto an airplane, sitting in a first-class seat and flashing his boarding pass to the camera. "That's how high gas prices are. I'm at the gate right now. This is really happening, proof gas prices are too high. Tell whoever the next president is we need to bring gas prices down."
Chris Van Hollen from Maryland hired a Bush impersonator in a radio campaign because high prices were Bush's fault:
Maryland Rep. Chris Van Hollen, chairman of the DCCC, told CNN that Democrats chose to use a Bush impersonator because the president's "big oil energy policies delivered high gas prices to the American people, so who better to deliver our message than someone who sounds like him? Every time Americans fill up their tanks or buy groceries high gas prices grab their attention, so it's important to give credit where credit is due."
Steny Hoyer blathered about high prices too.
"This morning's headline in the New York Times states the harsh reality: 'Gas Prices Soar, Posing a Threat to Family Budget.'
"The fact is, the nationwide average for a gallon of regular gasoline was $3.14 this week – an increase of 19 cents in just the last two weeks – and some energy experts fear gas prices could hit $4 a gallon this spring.
"Diesel prices are hitting new records daily, and oil hit a record high of $100.88 a barrel on Tuesday.
The three stooges added their three cents:
Hillary Clinton:
"Today's record-high gas prices are the price that the American people are paying for the Bush Administration's failed energy policies."
Harry Reid:
"The news that our nation's gas prices have hit an all-time high – especially as we approach the beginning of the summer travel season – underscores the urgent need for a better national energy policy that quickly brings clean and affordable renewable fuels and more energy-efficient vehicles to market. We have to make it a national priority to reduce our reliance on oil, especially foreign oil."
Rahm Emanuel:
"For six years, Republicans did nothing to make our nation energy independent while handing out taxpayer funded giveaways to big oil. Now the American people are paying the price. This week, Democrats will consider legislation to help prevent gas price gouging and in the coming weeks, we will continue to develop the strategies we need to secure our energy future and protect our environment."
Democrats had a chance to make us less dependent on foreign oil and instead they killed it.
[T]he Senate rejected, 56-42, a broader Republican energy plan that called for opening the Arctic National Wildlife Refuge in Alaska and some offshore waters that are now off limits to oil development.

Republican leader Mitch McConnell of Kentucky said more domestic oil production is needed to keep prices in check and to reduce U.S. dependence on oil imports. But opponents said the Alaska wildlife refuge and coastal waters that have been off limits to drilling for 25 years ought to remain out of bounds to oil companies.

"We can't drill our way to lower prices," said Sen. Richard Durbin, D-Ill.
Odd. Foreign oil producers can, simply by drilling more and increasing supply. Democrats are immune to the laws of supply and demand.
Democrats controlled the Congress from 2007-2011. They had a super-majority from 2009-2011. What did they accomplish? How much less dependent are we now on foreign oil? The truth is that we are more dependent on foreign oil than ever. Democrats failed utterly at energy, but they still are full of gas.