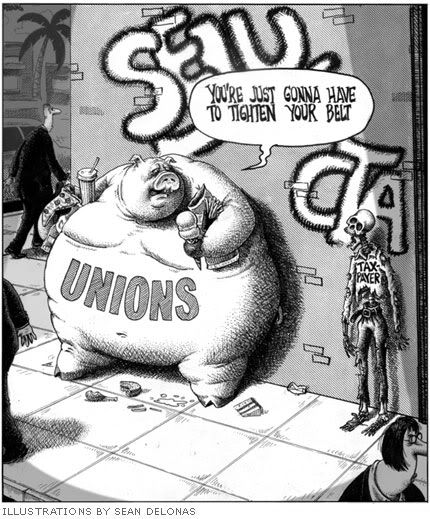 Whenever money is at stake, teachers' unions invariably resort to the emotional canard of
"It's for the children."
But inevitably when the budget ax falls, it always falls on whatever the children like the most. Generally, teachers' unions are so avaricious that they would rather see positions eliminated rather than accept a small sacrifice. Chris Christie proved that last fall. Democrats even cut funding for food stamps in order to stuff $24 million into teachers' unions.
Well, they're at it again and where else but in Chicago?
Taxpayers Send Teachers To Vegas Resort
The city of Chicago has a budget shortfall of $700 million and they celebrate that deficit by sending teachers to Las Vegas. A spokesman said that the "conference was required for educational development plans and procedures were followed."
Chicago schools have a pretty interesting set of procedures.
Tax dollars were spent on champagne costing $125 a bottle; thousands more on limousines, steak lunches and a food and liquor bill from a Soldier Field skybox event that alone cost more than $6,000.
Scammon Elementary School sent 14 teachers on an all-expense paid trip to a conference last fall. The principal tagged along and was absent for report card pick-up day.
It is also alleged that at Scammon some special education students were packed into a room last fall without proper supervision and sex acts took place.
Chicago might consider renaming that school to "Scammin' Elementary." But remember- it's for the children.